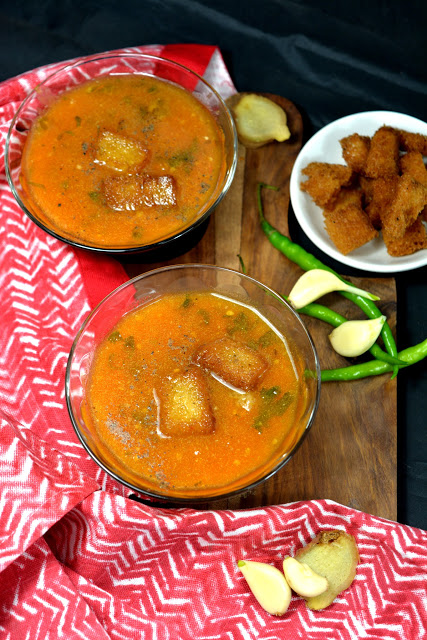 Last Updated on
Soups are categorized into three forms, i.e. soups, stew and shorba. Shorba is a Punjabi version of soup in which we gives tempering of cumin, mustard seeds and curry leaves. Its taste also spicy and little thick compare to regular soups.
This time I prepared Carrot and Tomato Shorba. For this recipe, we have to cook everything in one pot till to done and gives jeera vaghar on the top. Serve hot with croutons or garlic toast.
Carrot Tomato Shorba | Spicy Gajar Tamatar Shorba
Preparation Time: 10 Minutes
Cooking Time: 35 Minutes
Servings: 4
Category: Soup
Cuisine: Punjabi
Cooking Method: Boiling
Ingredients
For Boiling
8 Medium Sized Tomatoes, Roughly Chopped
4 Medium Sized Carrot, Peeled and Diced
1 Medium Sized Onion, Chopped
1 Tbsp. Ginger, Peeled and Chopped
2 Green Chilies, Chopped
2-3 Garlic Cloves, Chopped
1 Bay Leaf
4-5 Cloves
1 Black Cardamom
Salt to Taste
1 Star Anise
For Tempering
1 Tsp. Cumin Seeds
2 Tbsps. Butter
Few Curry Leaves
Green Coriander Leaves, For Garnishing
Croutons, For Topping
Instructions
Combine all ingredients of boiling in pressure cooker with 4 cups of water and cover it with lid.
Remove the whistle and cook for 20 minutes or till to cooked.
Now remove all the whole spices from the cooker and blend it till to smooth.
Heat the butter in separate pot. Add cumin seeds and curry leaves, when they starts splutter.
Add tomato mixture and adjust seasoning and consistency with water. Boil the soup for 10 minutes atleast.
Add chopped coriander and mix well. Serve hot with croutons.
Tags: how to make tamatar gajar shorba, shorba, soup, side dish, Punjabi, vegetarian, boiling, one pot meal, spicy soup, croutons, coriander, carrot, tomato, spicy, winter, blogging marathon, simplytadka, tomato shorba, tomato carrot shorba recipe.
Did you make this recipe?
If yes, do let us know how it turned out in the comments below.
Do share a picture with us simplytadka@gmail.com or share on Instagram with hashtag #simplytadkarecipes and tag us @simplytadka

Check out the Blogging Marathon page for the other Blogging Marathoners doing this BM#78