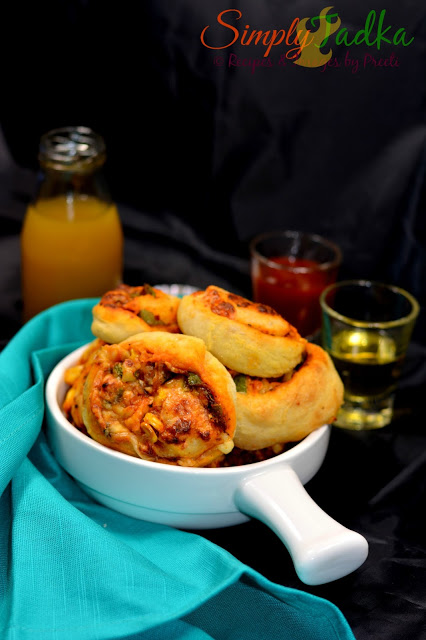 Last Updated on
When Srivalli announce the pizza theme for BM79, really get
excited to share my tried and tested recipes under this theme. I want to try
something new variation in pizza, so i got few ideas from Pinterest and love
the pinwheel shape. Pizza pinwheel is really fantastic and simple recipe where
we serve the pizza in form of pinwheel slices. For this recipe, just prepare the dough and
roll it, season with topping and cheese. Cut into slices and bake them.
Cheese Pizza
Pinwheel | Pizza Pinwheel Recipe
Preparation Time: 2
Hours
Cooking Time: 20
Minutes
Servings: 4
Category: Snacks
Cuisine: Italian
Cooking Method: Baking
Ingredients:
For Pizza Dough
2 Cups All Purpose Flour
1 Cup Warm Water
1 1/2 Tsp. Yeast
1 Tbsp. Sugar
1/2 Tsp. Salt
2 Tbsps. Olive Oil
For Topping
2 Cups Processed Cheese, Grated
2 Tbsps. Pizza Sauce
1 Cup Mix Veg (Corn, Capsicum, Onion)
1 Tbsp. Italian Seasoning
Cornmeal for Dusting
Instructions:
Combine the sieve flour and salt in a large bowl.
Take warm water in separate bowl and add sugar and yeast.
Keep aside for 10 minutes to foam up.
Add the yeast water into flour and make soft dough gently.
Apply olive oil and cover it.
Keep the dough for atleast 2-3 hours in a warm place till it
double in size.
Press the dough inside to release the air out and knead the
dough again. Add extra flour if needed.
Now your dough is ready to use.
Preheat the oven at 200 degree Celsius.
Take pizza dough and roll it into a flat rectangle. Now
spread the pizza sauce or ketchup.
Spread finely chopped vegetables and sprinkle seasoning over
the vegetables.
Now finally topped with grated cheese and roll it into a log
or as wrap. Cut into equal size of slices.
Lined the parchment paper or foil paper in a baking tray and
arrange the pizza slices.
Grease the slices with olive oil and bake it in oven at 200°c
for 15 minutes.
Serve hot with extra seasoning or ketchup.
Note: For better results, keep this dough again for one hour
atleast.
Always try to use olive oil for better taste.
Choose any
vegetable in topping whatever is available or you like it.
You can keep leftover dough in freeze for further use.
Tags: how to make pizza dough, pizza recipes, dough recipes, Italian,
snacks, kids friendly, blogging marathon, simplytadka, foodblogging, pinwheel
recipes, pizza pinwheel recipes, baked goodies, baking recipes, cheese,
pizza sauce, plain flour recipes, fermented recipes.
Did you make this
recipe?
If yes, do let us know
how it turned out in the comments below.
Do share a picture
with us
simplytadka@gmail.com
or share on
instagram with hashtag #simplytadkarecipes and tag us @simplytadka

Check out the Blogging Marathon page for the other Blogging Marathoners doing this BM#78