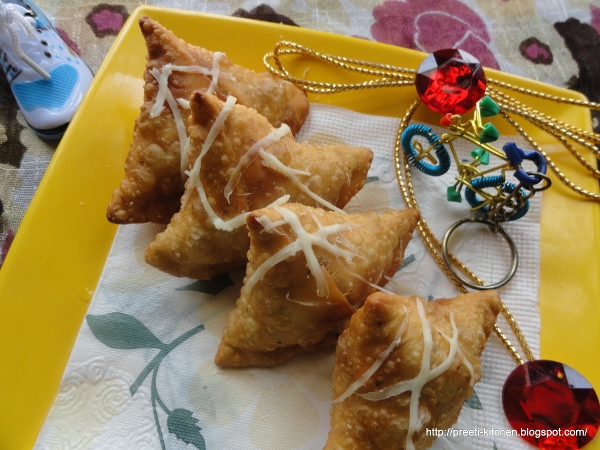 Last Updated on
Today I post "Cheesy Spicy Onion Samosa"….
Under this recipe, I was used cheese, onion and pepper instead regular stuffing….
we all know kids love cheese and samosa both….so I had used both together under
on-going theme Kids delights for warm food. Hope everyone love this version Spl
kids….. And will be trying in their kitchen. for more detail you can visit another samosa recipe "Mattar Samosa"
Ingredients
For crust
1 tsp. carom seed (ajwain)
Salt to taste
1 tbsp. pure desi ghee (for crispiness)
Water for dough
For
filling
100gm Cottage cheese (paneer)
1 cube of Pizza cheese
2 green chili pepper chopped
1 tsp. cooking oil
Salt to taste
1 tsp. coriander powder
1/4 tsp. red chillies powder
1/4 tsp. garam masala powder
A pinch of black pepper powder
Oil for deep frying
Directions
For crust
In bowl add flour, salt, carom seeds and ghee and mix well with figure
tips. Now add enough water slowly for tight dough like for kachori and samosa. Keep covered under a wet cloth for at least half an
hour.
For filling
Heat the pan on medium flame and add cooking oil in
it. Add chopped
onions and green chillies and sauté for 5 minutes. Now add spices and
paneer, mix well and keep aside for cool. When mixture comes at room
temperature, add grated cheese and mix well.
For
preparation
Divide the dough into small sized balls and roll
out one of them. Cut in the centre to get two pieces. Make cones from the
pieces using few drops of water to seal the corners. Stuff the cheese filling
and press the corners to seal the samosa. Repeat for rest of the dough and
stuffing. Heat oil and deep fry the samosa on medium flame till
golden brown and crisp. Drain the excess oil on a tissue paper and serve hot
with green chutney or sauce and garnish with extra grated cheese…
For more detail and techniques Visit @ Mattar Samosa in Preeti's Kitchen Life
Submit this recipe with following
events:
Blogging Marathon page for the other Blogging Marathoners doing BM#18