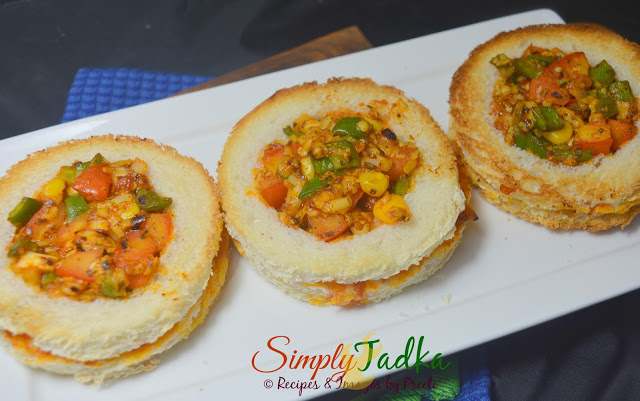 Last Updated on
This
time I tried easy and simple homemade bread based starter recipe known as
cheese veg discs. This recipe is made with seasonal vegetables like paneer, capsicum,
onion, tomatoes, corn and more.
Cheese
veg discs stuffed with mix vegetables, ketchup, spices and cheese and then
baked in oven till to golden. You can choose brown or white bread whatever you
prefer. It's a perfect appetizer for your guests to serve with tea or coffee.

Cheesy Veg Discs |
How to Make Cheesy Veg Discs Recipe
Preparation Time: 15 Minutes
Cooking Time: 12
Minutes
Servings: 4
Category: Snacks
Cuisine: Fusion
Cooking Method:
Baking
Ingredients:
1
Packet Brown Bread
Butter,
for Greasing
For Filling
1/4
Cup Tomatoes, Finely Chopped
1/4
Cup Onions, Finely Chopped
1/4
Cup Capsicum, Finely Chopped
1/4
Cup Sweet Corn Kernels, Boiled
1/2
Cup Cottage Cheese or Paneer, Crumbled
2
Tbsp. Green Coriander Leaves, Finely Chopped
2
Tsp. Green Chilies, Finely Chopped
For Seasoning
1/4
Cup Grated Cheese
3
Tbsp. Tomato Ketchup
1
Tbsp. Butter, Melted
Salt
to Taste
Black
Pepper to Taste
1
Tsp. Dried Oregano
1
Tsp. Chili Flakes
1
Tsp. Garlic Powder
Instructions:
Combine
all the ingredients of seasoning in one deep bowl and mix well. Keep aside.
Now
combine all the ingredients of filling (capsicum, onion, tomato, corn, paneer,
daniya and chilies) in one large bowl.
Add
seasoning mixture in filling mixture and mix it well.
Take
bread slices and cut them with a round shaped cookie cutter.
Cut smaller rings out
of the bread slices so that each bread slice can be used as a base with a ring
on top.
Finely spread the
melted butter and grated cheese on the bread slices and stick to the slice properly.
Add the filling till
the level of bread in the center of the bread ring.
Now place the rings in
greased baking tray and bake them in a preheated oven at 180 degree for 8-10
minutes, till to golden and crisp.
Serve hot cheese veg
discs with ketchup or tea.
Tags:
how to make cheese veg disc, cheesy veg discs, cheese recipes, blogging
marathon, simplytadka, bread recipes, paneer, snacks, appetizers, starters,
baking recipes, picnic recipes, tiffin recipes, kid special recipes, party recipes,
capsicum , corn, tomato, oregano, butter, Cheese Vegetarian Disks
Check out the Blogging Marathon page for the other Blogging Marathoners doing this BM#74
Enter your email address:
Delivered by FeedBurner