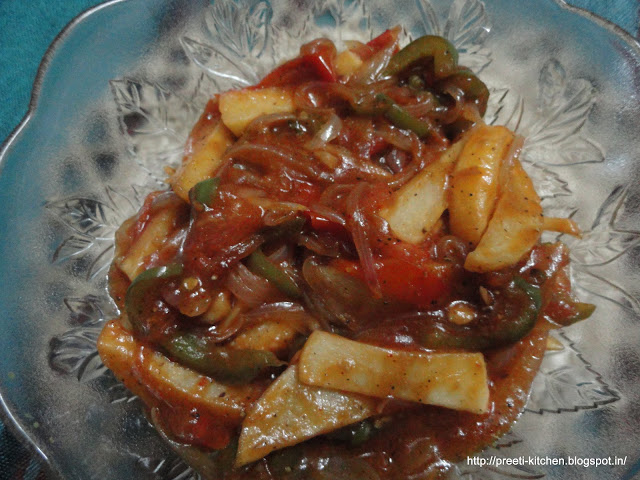 Last Updated on
Chili Potato is an
Indo-Chinese recipe under which we used mixture of sauces as well as very spicy
in taste with little sweetness. It can be used as starter or in main course
also. Chili potato is combo of two steps, 1st is
fried potatoes and 2nd is cook the fried potatoes with onion,
capsicum, spices and sauces.
Ingredients
2 medium sized potatoes
1 large tomato
1 medium green capsicum
1 large onion
1 tbsp. olive oil
2 tsp. Tomato ketchup
1 tsp. Soya sauce
½ tsp. green chillies sauce
½ tsp. Cornflour
Salt to taste
1 tsp. red chillies powder
½ tsp. sugar
1 green chillies
1 tsp. ginger
1 tsp. lemon juice
Vegetable oil for deep frying
Method
Peel and cut the potatoes into long and thick strips, then wash
it. Now heat the sufficient oil in the pan on medium flame and deep fry the
potatoes sticks and remove the potatoes strips into absorbing paper.
Now chop the onion, capsicum and tomatoes into long strips
shape. Make the ginger and green chillies paste.
Heat the non-stick pan on medium flame and add olive oil. Add
onion and ginger-green chillies paste. Sauté for 2 minute, add capsicum and sauté
till onion and capsicum become soft and cook well. Add tomatoes.
Now take ½ cup water add all three sauces and mix well.
Add these sauces into the pan. Add salt, sugar, red chillies powder,
and cornflour batter (mix ½ tsp. cornflour into ½ cup water). Cook for 2
minutes and add potatoes.
Now cook for this for 5 -7 minutes and serve hot chillies potatoes
with rumali roti or naan.
Note: you can modify spices and sauces according to your taste
buds.