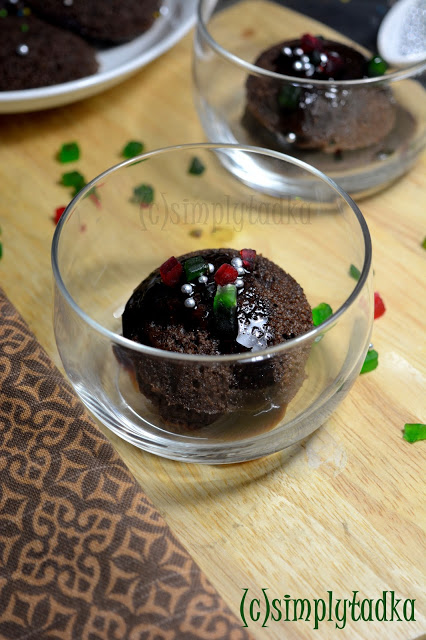 Last Updated on
Chocolate idli cake is
really interesting and chocolaty recipe for your kids to give them healthy meal
in form of chocolate cake. To cook cake in idli plates makes more handy and
easy to eat and serve. To make more interesting dessert just serve hot chocolate
idli cake with oje scoop of vanilla icecream, chocolate sauce and sprinkles.
Its a good option for travelling meal or tiffin recipe.
This time i create this
recipe for blogging marathon under steam meal theme. Even my kiddo also love
these chocolate idli cake recipe with little rainbow sprinkles makes him
hungry. When ever you try this recipe, just adjust the sugar level according to
your tastebuds and even you can add normal or castor sugar also instead of
brown sugar.
Chocolate
Idli Cake
Preparation
Time: 10 Minutes
Cooking
Time: 12 Minutes
Servings:
4
Category:
Dessert
Cuisine:
Fusion
Cooking
Method: Steaming
Ingredients
1/2 Cup Semolina
1/2 Cup Plain Flour
1/4 Cup Cocoa Powder
1/2 Cup Brown Sugar
1/2 Tsp. Baking Soda
1/2 Cup Milk
1 Cup Yogurt
1/4 Cup Olive Oil
Few Drops of Almond Essence
Few Tutti Fruti
Few Sprinkles, For
Granishing
Chocolate Syrup, For
Garnishing
Instructions

Combine yogurt, sugar and
oil together in bowl and whisk well till to smooth consistency.
Add milk, essence, semolina,
cocoa powder, flour and baking soda and mix well till to no lumps remain.
Add tutti frutti and
chocochips whatever you prefer and fold it gently.
Grease the idli plates and
pour the ladleful batter in each mold.
Steam it in steam till to
cook for 10-12 minutes on medium flame.
Remove from the plate and
garnish with chocolate sauce and sprinkles.
Serve hot chocolate idli
cake with vanilla icecream.
Tags: how to make chocolate idli
cake, idli cake recipe, chocolate idli, steam recipe, steam meal, blogging
marathon, snack, healthy recipe, kids recipe, dessert, chocolate recipe, fusion
recipe.
Did you
make this recipe?
If yes, do let us know how
it turned out in the comments below.
Do share a picture with us
simplytadka@gmail.com or share on
instagram with hashtag #simplytadkarecipes and tag us @simplytadka
Check out the Blogging Marathon page for the other Blogging Marathoners doing this BM#78
Enter your email address:
Delivered by FeedBurner