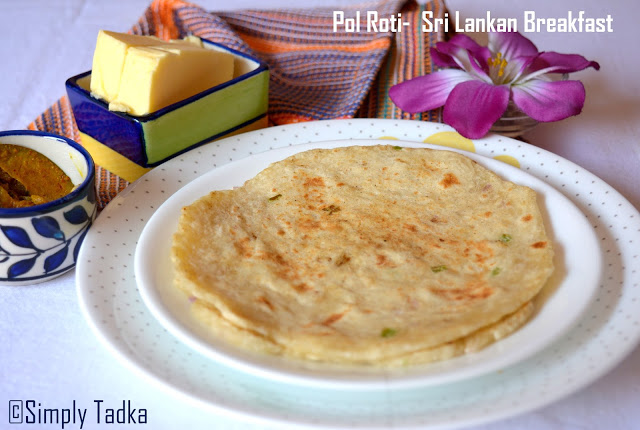 Last Updated on
Coconut roti or pol roti is eaten almost every day for
breakfast in Sri Lanka. Pol roti is made with freshly grated coconut, flour and
salt. It's just like thick tortillas. For more variation, you can add onion,
chilies and wheat flour instead of plain flour which makes this recipe
healthier.
This pol rotis are soft and full on flavor of coconut which adds the
richness and natural sweetness. Even you can store the leftover rotis for
another day.
Coconut Roti | Pol Roti – Sri Lankan Cuisine
Preparation Time:
30 Minutes
Cooking Time:
15 Minutes
Servings: 4
Category:
Breakfast
Cuisine: Sri
Lanka
Ingredients
2 Cups All Purpose Flour/ Maida
1 Cup Fresh Coconut, Grated
1 Onion, Chopped
2 Green Chilies, Finely Chopped
Salt to Taste
Water, as needed
1 Tbsp. Oil
Instructions:
Add flour, coconut, onion, chilies, salt and oil
together in bowl.
Add water and knead smooth dough as chapatti type.
If your dough is still sticky then add extra flour for
soft and smooth dough.
Now cover with damp cloth and keep aside for 30
minutes to rest.
Heat the tawa or griddle on medium flame.
Divide the dough into eight equal parts and roll them
out into 5 inch circles.
Cook the roti on the tawa from the both sides until to
brown spots on the surface.
Continue the same procedure with other balls.
Serve warm pol roti with coconut sambol or any
curries.
Notes: You can add
1:1 ratio of maida and wheat flour for healthy version.
Tags: how to cook pol roti, pol roti recipe, coconut roti
recipe, blogging marathon, simply tadka, flatbreads, bread recipes, coconut
recipe, breakfast recipe, flour recipes, international breakfast recipes, world
cuisine, Sri Lankan recipes, Sri Lankan cuisine, healthy recipe, tropical
recipe.
Check out the Blogging Marathon page for the other Blogging Marathoners doing BM# 56
Enter your email address:
Delivered by FeedBurner