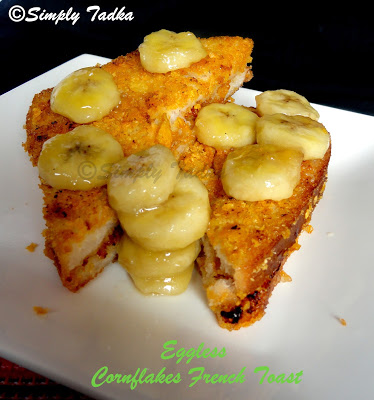 Last Updated on
Cornflakes French toast is really awesome in
taste, so crisp and sweet in flavor. After long time I join Blogging Marathon
event hosted by Srivalli. Under this event I choose French Cuisine for this
week. I prepared cornflakes coated eggless French toast. If you love eggs then
just ignore custard powder and milk, beat the egg and sugar together and dip
the bread for French toast.
Preparation
Time: 10 Minutes
Cooking
Time: 15 Minutes
Servings: 2
Category:
Sandwich & Toasts
Cuisine:
French
Recipe
Source: Sanjeev Kapoor
Ingredients:
2 Cups Cornflakes
4 Brown Bread Slices
1 Tbsp. Custard Powder
1/4 Cup Milk
2 Tbsp. Sugar
Oil, for shallow fry
2 Bananas
2 Tbsp. Butter
Instructions:
Prepare the custard powder, milk and sugar
batter.
Heat the butter in non-stick pan and add
banana roundels and 1/2 Tbsp sugar and cook till the bananas caramelize.
Crush the cornflakes and spread on plate,
keep aside. Heat the oil in separate non-stick pan.
Dip the bread slices in the custard batter
and coat in the cornflakes. Place in the oil and cook till to golden and crisp
from both sides. Cut the toasts into triangles and serve with caramelized
bananas.
Tags
: French cuisine, bread recipes, toast
recipes, cornflakes, custard, breakfast recipes, banana, butter, sugar, blogging
marathon, simplytadka, caramalized,
Blogging Marathon#55
Enter your email address:
Delivered by FeedBurner