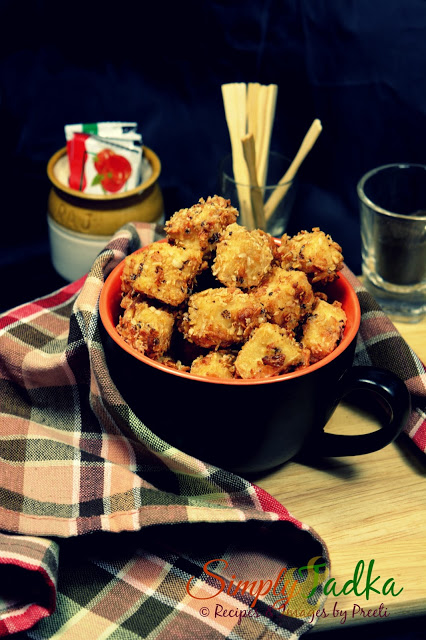 Last Updated on
I taste tofu many times in restaurants but never cooked
at home. To get perfect snacks, I tried super easy recipe i.e. Crispy Tofu
Fried. To make this bite size snack, just dip the tofu into
cornflour batter and rolled into oats or panko.
To make healthier snack, I choose multigrain oats,
combination of oats, barley, wheat and ragi.
Tofu, also known as bean curd, is a food cultivated
by coagulating soy milk and then pressing the
resulting curds into soft white blocks.
Tofu can be soft, firm, or extra firm. Tofu has a subtle
flavor and can be used in savory and sweet dishes.
Tofu is relatively high in protein, about 10.7% for
firm tofu and 5.3% for soft "silken" tofu, with about 5% and 2% fat,
respectively.
Crunchy
Tofu Bites | Protein Rich Snacks.
Preparation
Time: 10 Minutes
Cooking
Time: 15 Minutes
Servings:
2
Category:
Snacks
Cuisine:
Indian
Cooking
Method: Fried
Ingredients
1 Cup Tofu, Diced
Crushed Multigrain Oats for Rolling
Oil for Frying
For
Batter
2 Tbsps. Plain Flour
2 Tbsps. Cornflour
Salt to Taste
Red Chili Powder
Black Pepper Powder
Water
Instructions

Combine the batter ingredients and mix it to get smooth
batter (dipping consistency).
Chop the tofu into cubes. Dip in batter and roll into
crushed oats.
Heat the enough oil in wok. When oil is hot enough, add
tofu pieces into small quantity.
Fry them till to golden and crisp. Drain them on kitchen
towels and sprinkle little chaat masala and salt and toss well.
Serve with chili sauce or ketchup.
Tags: how to make tofu fried.
Tofu recipes, fried recipes, snacks, starter, food blogging, simplytadka, blogging
marathon, monsoon, party recipes, easy recipe, vegetarian recipe, vegan recipe,
bite size recipe, protein rich recipe, soya recipes, oats recipes.
Did
you make this recipe?
If yes, do let us know how it turned out in the comments
below.
Do share a picture with us simplytadka@gmail.com or
share on instagram with hashtag
#simplytadkarecipes and tag us @simplytadka
Check out the Blogging Marathon page for the other Blogging Marathoners doing BM# 80