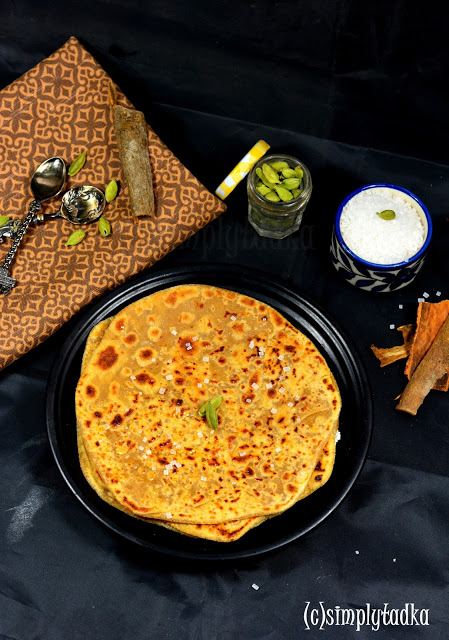 Last Updated on
Chini ka paratha is come
out from my childhood memories… personally i love sugar paratha or meetha
paratha whatever you call… every kid loves chini ka paratha, if you cook
this paratha in desi ghee it makes more delicious.
I love the taste of caramelize
sugar in parathas when we cook with ghee. This time i added green cardamom
powder and cinnamon powder also with sugar which gives the flavor to this
paratha. Add milk while kneading dough, it makes dough soft and keeps roti or
paratha soft for long time. Combination of milk, ghee, sugar and cardamom makes
paratha super delicious and healthy.
Dhoodh
Chini ka Paratha | Sweet Paratha
Preparation
Time: 15 Minutes
Cooking
Time: 15 Minutes
Servings:
4
Category:
Indian Flatbread
Cuisine:
Fusion
Cooking
Method: Tawa Cooking
Ingredients

2 Cups Whole Wheat Flour
1 Cup Milk
1 Tbsp. Oil
1/2 Cup Sugar
1 Tsp. Green Caradamom
Powder
1 Tsp. Cinnamon Powder
Desi Ghee Or Oil for Cooking
Wheat Flour for Dusting
Instructions
Combine sugar, cardamom
powder and cinnamon powder together in one bowl and keep aside for furthur use.
Combine milk, flour and oil
in deep bowl to knead semi soft dough. Cover and keep aside for 10-15 minutes
atleast to set.
Divide the dough into equal
portion and roll it into circle using rolling pin.
Grease with oil and add 1
tbsp sugar stuffing and fold the edges in center. Again roll it into circle
using little flour.
Heat the non-stick tawa or
griddle and cook each paratha on a medium flame using little ghee on both side
till to golden and cook.
Serve hot gur aur til ka
paratha with chili or mango pickle.
Tag: how to make chinni ka
paratha, sugar paratha, sweet indian flatbread, indian bread recipe, indian
flatbread recipe, main course, flour recipe, meetha paratha, simplytadka, easy
recipe, milk roti, chinni roti, tawa cooking, paratha recipe.
Did you
make this recipe?
If yes, do let us know how
it turned out in the comments below.
Do share a picture with us
simplytadka@gmail.com or share on
instagram with hashtag #simplytadkarecipes and tag us @simplytadka

Check out the Blogging Marathon page for the other Blogging Marathoners doing this BM#78