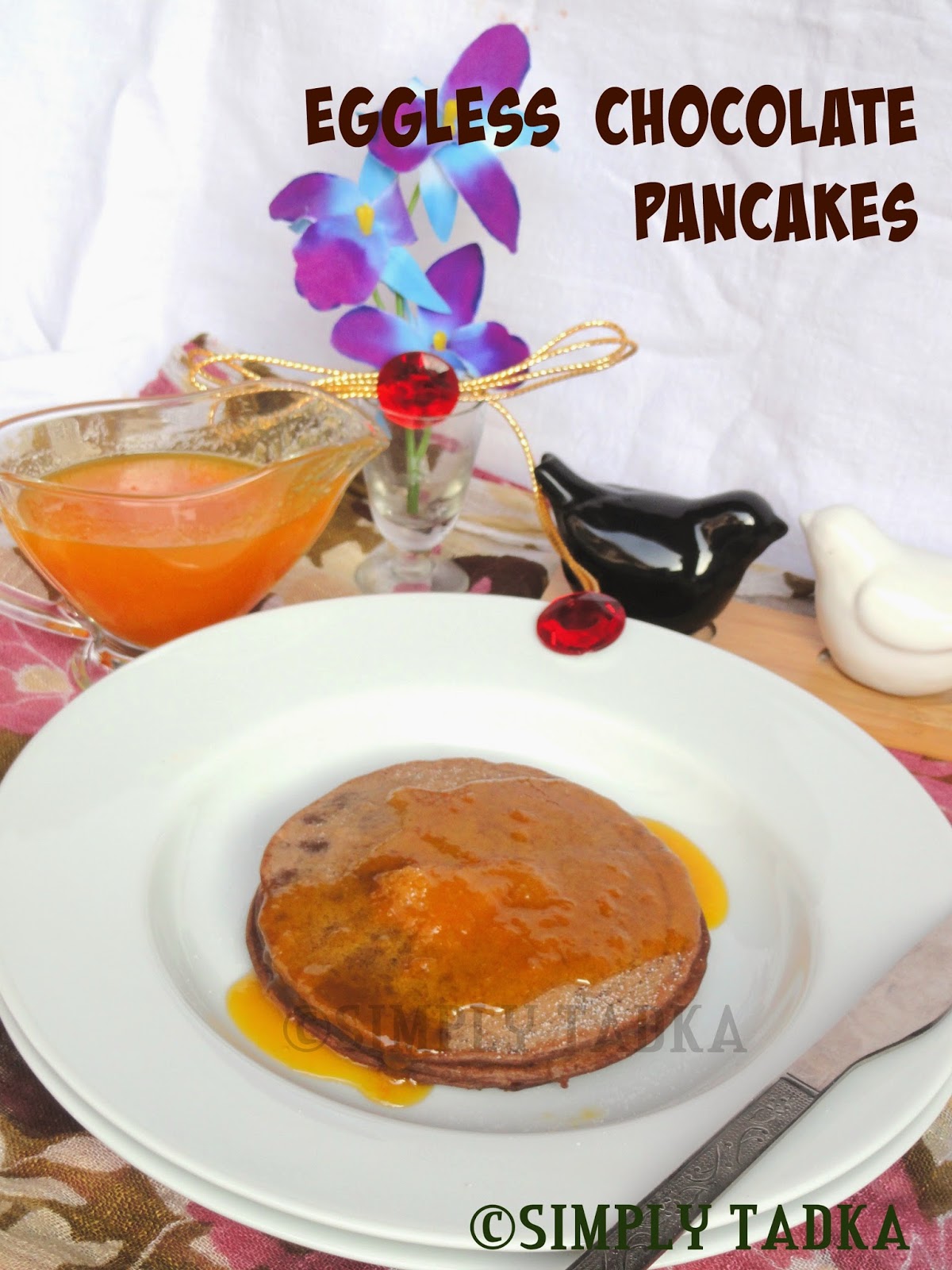 Last Updated on
After a long
time I started my Sweet Fantasy Club Series again with two new recipes. Here we
were shared two sweet delicacies one relate to Indian sweets and second relate
to fusion or international dessert. This time I cooked Eggless Chocolate Pancakes
with Glazed Orange Syrup.
For this
recipe first I have to prepare pancakes with some combination of ingredients
like all purpose flour, baking powder, sugar, milk and oil. To garnish these
pancakes I prefer to prepare orange syrup with orange juice and sugar. There
are more options are available for garnishing like dazzle with chocolate sauce
or serve with honey and fresh berries, bananas and oranges.
Preparation time: 15 minutes
Cooking time: 25 minutes
Servings: 8
Category: Breakfast
Cuisine: American Cuisine
Ingredients:
For Eggless Chocolate Pancakes
1 Cup All
Purpose Flour
4 Tbsps.
Cocoa Powder
1/2 Tsp.
Baking Powder
Sugar to
taste
1 Tsp.
Vanilla Essence
1 Cup Milk
3 Tbsp. Oil
For Orange Glazed
1 Orange
Segment
1 Cup Fresh
Orange Juice
1/4 Cup
Sugar
Instructions:
For Orange Glazed
Combine
orange juice, sugar and orange segment together in sauce pan and cook on medium
flame till to maple syrup consistency. Keep aside to cool.
For Eggless Chocolate Pancakes
Sieve the
flour, cocoa powder and baking powder together in separate bowl.
Combine all
dry and wet ingredient together and whisk well till to lumps free batter.
Heat the non-stick
griddle and drizzle little olive oil. Pour ladle full batter and cook till to
bubble appears. Don't spread the batter like chilas or dosas to make soft and
fluffy pancakes.
Notes: if you want to cook plain or vanilla flavor then
avoid cocoa powder.
For
garnishing, you can use chocolate syrup or fresh fruits and honey also.
You can add
wheat flour too instant of using all purpose flour.
If you are
vegan, then add half orange juice and half water for making batter instead of
using milk.
Tags: how to cook eggless pancakes, pancakes, eggless
pancakes, chocolate pancakes, eggless chocolate pancakes, breakfast recipes,
kids special recipes, flour recipes, chocolate recipes, cocoa recipes, fluffy
pancakes, milk recipes, homemade pancakes, easy pancakes recipe, simply tadka
recipes.
Enter your email address:
Delivered by FeedBurner