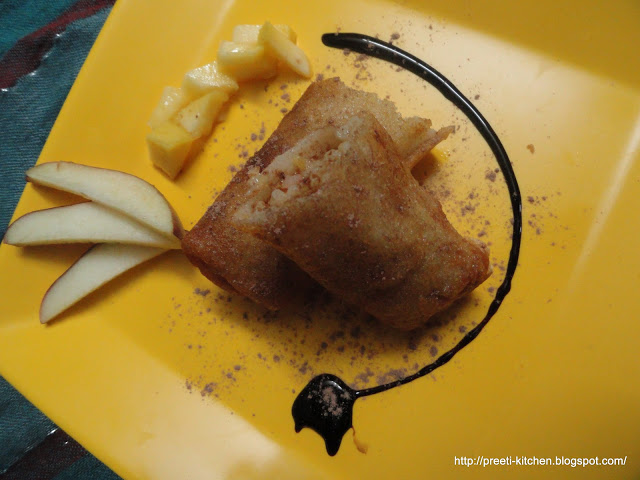 Last Updated on
Spring roll is a Chinese
street food which most popular in India now-a-days. It's not only adult favorite
but also too popular in kids. Spring roll is specially prepared with crisp and
golden look flour wrapper which stuff with mostly with vegetarian and non-vegetarian
stuff.
Today I post fruit
spring roll which little sweet in taste but look like traditional spring roll. We
can prepare wrappers with two methods; one is prepared dough and makes prantha
or second is prepared chill consistency batter and cooks it on the non-stick
pan. Here we prepared stuffing with fruits and honey. I choose mango, banana
and apples but you can change as per your choice.
Ingredients
For wrapper
1 cup refined flour
(maida)
1 ½ cup water (appx)
1 tsp. sugar
¼ tsp. vegetable oil
for greasing
For fruit filling
1 tbsp. chopped ripe
mango
1 tbsp. chopped ripe
banana
1 tbsp. chopped red
or green apple
1 tsp. green
cardamom powder (elachi)
1 tsp. honey
Vegetable oil for
shallow frying
For garnishing
drinking chocolate
chocolate sauce
fresh fruits
Method
How to make fruit
filling
Mix all the fruits
in one bowl, add cardamom powder and honey and mix well.
How to cook the wrappers
In a bowl add sugar
and plain flour (maida). Add water slowly and slowly for making pouring consistency
smooth batter. Please keep the batter aside for one hour.
After 1 hour, check
the consistency first, and then heat the pan on medium flame. Add ¼ tsp. oil and
grease it with the help of tissue paper. Turn
the heat down to low and add a heaping tablespoon of the batter to the middle
of the pan. Quickly spread the batter out evenly to form a circle 5 – 6 inches
in diameter. Continue smoothing out the batter as the skin cooks.Cook the skin briefly, until it is cooked on the
bottom and the edges curl slightly. Take care not to overcook. Remove carefully.
How prepare fruit spring roll
To make the fruit spring rolls, place 2-3 tbps.of
the filling in the center of each wrapper. Fold the edges and form a tight
roll, seal the edges with thick batter of (flour and water). Now heat the
vegetable oil in the pan for medium flame, when oil is hot enough add spring
roll one by one until golden and crisp. Serve with little chocolate sauce and
chopped fresh fruits. sprinkle drinking chocolate over the spring roll.
Submit this fruit spring roll recipe with following events:
Blogging Marathon page for the other Blogging Marathoners doing BM#15