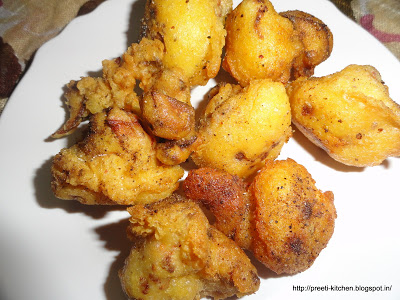 Last Updated on
Bhajias or fritters also known as Pakoras, these
are the perfect snack for a cold, rainy day and serve them with sweet tamarind
chutney. Use any vegetable you like, here I used Cauliflower.
Cauliflower
is low in fat, low in carbs but high in dietary fiber, folate, water,
and vitamin C, possessing a high nutritional density. Cauliflower
contains several phytochemicals, common in the cabbage family that
may be beneficial to human health.
§  Sulforaphane, a compound released when cauliflower is chopped or chewed,
may protect against cancer.
§  Other glucosinolates
§  Carotenoids
§  Indole-3-carbinol, a chemical that enhances DNA repair, and acts as
an estrogen antagonist,
slowing the growth of cancer cells. (from Wikipedia)
Cauliflower florets 7-8
medium sized
1/2 cup gram flour (besan)
½ tsp. carom seeds
Salt to taste
1/2 tsp. red chillies powder
A pinch of turmeric powder
A pinch of soda bi carbonate/
meetha soda
Chaat masala
Black pepper powder
Vegetable oil for deep frying
Method
In a bowl, add gram flour,
salt, carom seeds, red chillies powder, and turmeric powder and meetha soda. Add
enough water for thick and smooth batter.
Now wash and clean the medium
sized cauliflower and separate florets from cauliflower.
Now heat the sufficient
vegetable oil in the wok on medium flame. When oil is hot enough, dip the
florets in batter and coat well.
Cook them on medium flame until
look crisp and golden. Remove them crisp and tasty bhajjia on kitchen towel to
remove excess oil.
Sprinkle chaat masala and
black pepper onto florets and toss it well.
Submit this recipe with following event:
Blogging Marathon page for the other Blogging Marathoners doing BM#14
Kid's Delight, hosted by Rujuta themed on Easy to make Snacks under 30 mins
Comfort food  Street Food event hosted by Chef al Dente