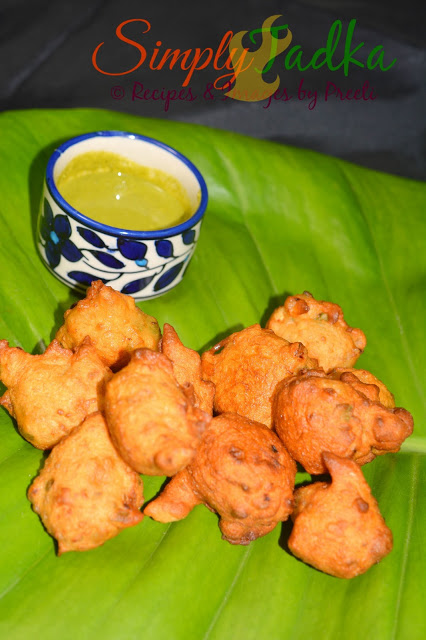 Last Updated on
Goli
bajje is very chewing and tasty snack, served with tea or coffee. Its origin
from mangalore and prepared with flour, curd and spices. It's a very easy and
simple recipe which prepared with in minutes after fermentation process.
If you
like crispy snacks in texture, you can add rice flour or maize flour with
maida.  You can serve goli bajje with
green coconut chutney. It's a great option for upcoming holi festive.
Goli Bajje| Mangalore
Bajji| Mangalore Bonda Recipe | Masala Goli Baje Recipe


Preparation Time: 3 Hrs
Cooking Time: 15 Minutes
Servings: 4
Category: Snacks
Cuisine: Karnataka
Cooking Method: Fried
Ingredients:
1 Cup All
Purpose Flour/ Maida
2 Tsp.
Rice Flour
1/2 Cup
Yogurt
Onion,
Peeled and Finely Chopped
Coriander
Leaves, Finely Chopped
1 Tsp. Ginger,
Peeled and Finely Chopped
1 Green
Chili, Finely Chopped
Few Curry
Leaves
1 Tsp.
Cumin Seeds
2 Tsp.
Sugar
Salt to
Taste
Red
Chili Powder to Taste
1/4
Tsp. Baking Soda
Vegetable
Oil, Frying
Instructions:
Add all
the ingredients (rice flour, flour, chili, ginger, curry leaves, onion and
spices) in a bowl. 
Add
curd and mix gently. The batter consistency should be thick in consistency like
dosa. Mix well.
Cover
it and keep aside for 2-3 hours for fermentation.
Heat
the oil in non-stick pan on medium flame, when oil is hot enough.
Drop
the spoonful batter in small batches to make goli bajje or mangalorean bonda.
Fry
them until to golden and crisp. Serve hot goli bajje with tea or coffee.
Notes: if batter is thick,
snacks become hard and if batter is watery, snacks become oily.
Tags: Blogging marathon, goli bajje
recipe, snacks, fried, vegetarian, Indian, south Indian cuisine, mangalorean
bonda, bonda recipe, mangalore cuisine, Karnataka cuisine, tea time snacks,
evening snacks, fried recipe.
Check out the Blogging Marathon page for the other Blogging Marathoners doing this BM#73