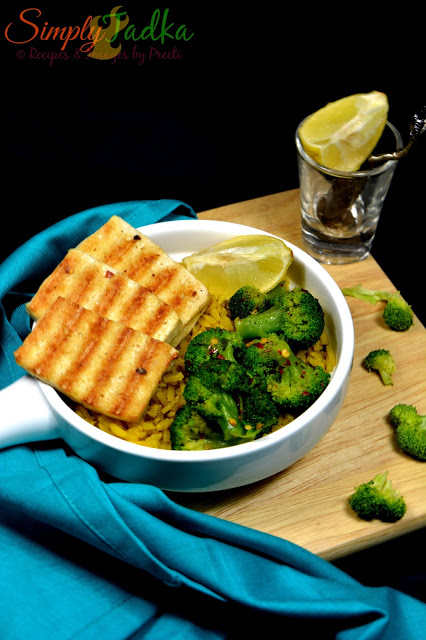 Last Updated on
Sometimes I feel
bore with plain white rice, so always trying to add flavors with my rice bowl
recipe like addition of lemon juice for flavor, addition of mint leaves or
jeera tadka. But this time I tried vegetable broth plus turmeric powder. You
can use fresh turmeric root also to get fresh and good flavors.
Turmeric root is Indian
spice which used in every Indian kitchen. It's good for stomach ailments and helps
in reducing inflammation.
This time i
prepared grilled tofu with turmeric brown rice and broccoli. I used marinated
tofu with ginger chili paste, seasoning and soya sauce and grilled in pan with
some butter.
Sometimes we need
simple, healthy and tasty to cook and digest too. Overall you can say it's
totally comforting food. I made stir fry broccoli, brown rice cooked in
vegetable broth and grilled tofu, served in one bowl with lemon juice and chili
sauce.
Grilled
Tofu with Turmeric Brown Rice
Preparation
Time: 30 Minutes
Cooking
Time: 30 Minutes
Servings:
2
Category:
Main Dish
Cuisine:
Fusion
Cooking
Method: Grill, Stir Fry
Ingredients

For Grilled
Tofu
100gm.Tofu
1/2 Cup Butter
Salt to Taste
Pepper Powder To Taste
2 Tbsps. Soya Sauce
1 Tsp. Ginger Chili Paste
For
Brown Rice
1 Cup Brown Rice
2 1/2 Cups Vegetable Broth
1 Tsp. Turmeric Powder
1 Tbsp. Olive Oil
For
Broccoli Stir Fry
1 Cup Broccoli, Florets
2 Tbsps. Butter
Salt to Taste
Pepper Powder to Taste
1 Tsp. Oregano
Chili Flakes to Taste
Instructions

Cut and wash the broccoli, sauté with butter and seasoning.
Wash and Soak the rice in water for atleast 30 minutes.
Heat the olive oil in pan, add vegetable broth, turmeric
powder and rice. When water starts boiling, adjust the seasoning and cover it.
Cook till to water absorbs and rice looks tender.
Wash and cut the tofu into rectangle size. Combine ginger
chili paste, soya sauce and salt and pepper in separate bowl. Dip the tofu into
soya sauce mixture for 10 minutes.
Heat the griddle and grease little butter and grill the tofu
pieces on medium flame.
Assemble all three items into one platter and serve hot with
chili sauce.
Tags: how to cook tofu,
grilled tofu, brown rice recipe, turmeric rice recipe, grilled recipe, food
blogging, simplytadka, Blogging marathon, healthy recipe, main course, protein rich
recipes, vegan recipe, vegetarian recipes, main dish, lunch menu, soya recipe,
broccoli recipe, comforting recipes, stir fry recipes, grilled recipes.
Check out the Blogging Marathon page for the other Blogging Marathoners doing BM# 80