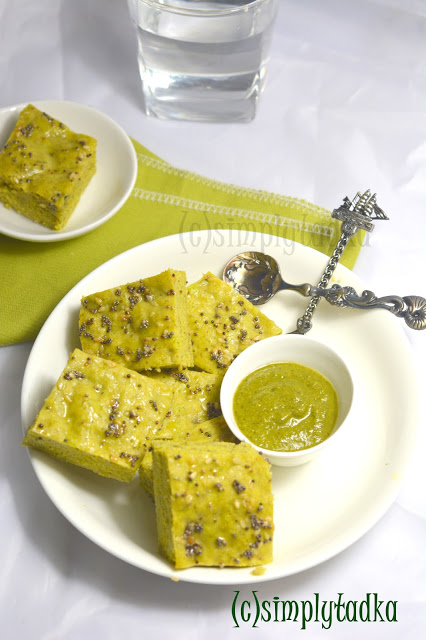 Last Updated on
Palak dhokla is very healthy and nutritious meal for everyone.. because its made by gram flour, yogurt and spinach puree. Palak dhokla are called steamed spinach lentil cakes in english which served with green chutney or meethi chutney as you like. Steaming process makes food more healthy and delicious compare to frying or deep frying. I always prefer steamed food because its tasty as well as healthy also.
To make this dhokla at home, we need spinach puree which combines with besan or gram flour, rava aka semolina and yogurt. After steam process, we add some tadka of mustard seeds, sesame seeds and green chilies. This watery tadka keeps dhokla moist and makes tastier and fluffy.
Green color dhokla attracts
the kids and even you can give them in tiffin also. So here is the recipe, how
to make palak dhokla or steamed spinach lentil cakes at home.
Palak
Dhokla | Gujarati Palak Dhokla Recipe.
Preparation
Time: 20 Minutes
Cooking
Time: 15 Minutes
Servings:
4
Category:
Snack
Cuisine:
Gujarati
Cooking
Method: Steaming
Ingredients
For Batter
1 Cup Bengal Gram Flour
1/4 Cup Semolina
1 Cup Spinach Puree
1/2 Cup Yogurt
Salt to Taste
1 Tbsp. Sugar
1 Tbsp. Lemon Juice
1 Tsp. Eno Salt
1/2 Tsp. Baking Soda
Water
For
Tempering
1 Tsp. Mustard seeds
1 Tsp. Sesame seeds
1 / 2 Tbsp. Lemon juice
2-3 Green chilies, Slits
2 Tsp. Sugar
Salt to taste
1/2 Cup Water
1 Tbsp. Oil
Instructions

Combine spinach puree,
yogurt, flour, semolina, salt and sugar together in large bowl.
Add lemon juice, baking soda
and water to adjust the consistency of batter, should be like dhokla batter.
Grease the dhokla plates
with little oil.
Add eno and mix well. Pour
the batter into dhokla plates and steam it till to cook or atleast 15-18
minutes.
Remove the dhokla from the
steamer and keep aside to cool.
Heat the oil in tadka pan,
add mustrad seeds, sesame seeds, green chilies and water.
Now add salt, sugar and
lemon juice and boil 5 minutes on medium flame. Swtich off the gas and pour the
tadka over the dhokla.
This tadka water makes
dhokla moist and soft. Garnish with green coriander, optional.
Tags: how to make palak dhokla,
dhokla recipe, healthy recipe, snacks, steamed food, vegetarian, bengal gram
flour, spinach recipes, Gujrati recipe, tiffin recipes, breakfast recipes.
Did you
make this recipe?
If yes, do let us know how
it turned out in the comments below.
Do share a picture with us
simplytadka@gmail.com  or share on
instagram with hashtag #simplytadkarecipes and tag us @simplytadka
 Check out the Blogging Marathon page for the other Blogging Marathoners doing this BM#78