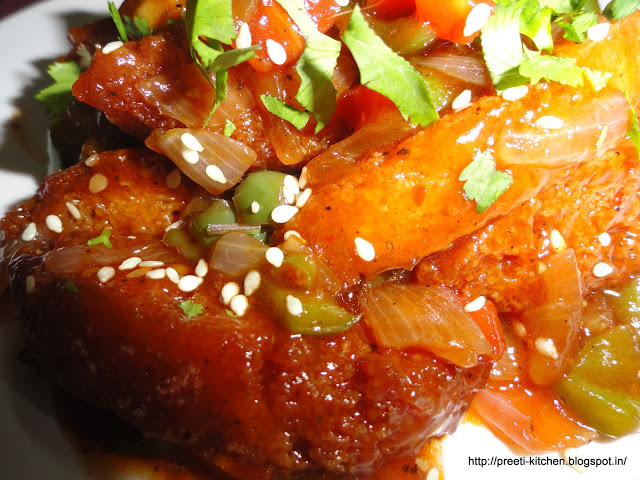 Last Updated on
When we prepared suji's idli which is very healthy and low cal. Food,
it's my favourite and never says No to this. We can make so many new recipes or
tasty snacks with leftover idli's i.e. masala idli, fried idli, idli sandwich,
so many variations. Here is one which I'm trying today which called "Idli Manchurian".
Semolina is simply a form of ground hard wheat called durum
wheat.  It is often used to make pastas and to thicken stews. 
Semolina is very high in protein making it an ideal substitute to flour,
especially for vegetarians.  Semolina is said to have a low glycaemic
index, meaning that it is digested and absorbed at a slower rate in the stomach
and intestines than white flour.  This characteristic is of a particular
importance for those wanting to reduce their weight as well as for diabetics
striving towards better blood sugar control.  Slower digestion and
absorption helps to prevent rapid fluctuations in blood glucose levels. (From
Dasman org)
1
onion chopped
1 green
capsicum chopped
1
carrot medium sized (chopped)
2
green chillies chopped
1
tsp. ginger paste
2
tsp. tomato ketchup
1
tsp. soya sauce
1
tsp. corn flour
1
tbsp. olive oil
Salt
to taste
1
tsp. sugar
1
tsp. black pepper
1
tbsp. green coriander chopped
1
tsp. sesame seeds
Vegetable oil for deep frying
Method
First, we have to cut the
idli into finger size. I get 4-5 fingers from one idli, but it would be depend
on the size of idli.
Now you have to heat the vegetable
oil into the deep pan and fried this chopped idli's on medium flame until cook
crisp and golden. Now remove this fried idli onto kitchen towel.
Second step for Manchurian,
Heat the pan on medium
flame and add olive cook.
Add chopped onion, green
chillies and ginger paste, sauté for 5 minutes until onion becomes transparent
and cook well.
Add chopped capsicum and
carrot. Cook for 10 minutes.
Now add spices (black pepper,
salt and sugar), sauces batter and corn flour batter.
For sauces and cornflour
batter
Take half cup of water and
mix both sauce into cup.
Take half cup of water and corn
flour and mix well
Cook the Manchurian until
dried and garnish with green coriander and sesame seeds and serve hot.
 submit this recipe with following events:
Blogging Marathon page for the other Blogging Marathoners doing BM#14


Kid's Delight, hosted by Rujuta themed on Easy to make Snacks under 30 mins
comfort food