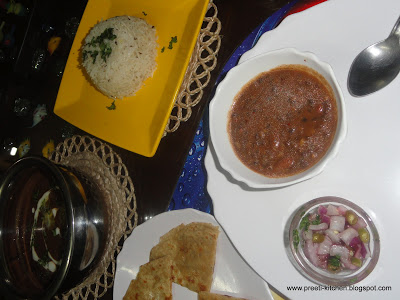 Last Updated on
Jeera Rice also
known as Jeera Pulao or Cumin Rice is a dish you can prepare easily with
minimum efforts. You need to go to a restaurant to have it any more. You can
prepare this at home. Jeera or cumin seed is both a spice as well as traditional
medicine used to treat fever, headache or skin diseases. Its contain vitamin A
& C, iron and calcium. Here we cook simple and easy to cook Jeera rice with
fewer ingredients which are easily available in every kitchen.
Ingredients
2 cup pure basmati rice
4 cup water
2 tsp. cumin seeds
1 tbsp. clarifying butter (Desi Ghee)
1/2 tsp. salt (to taste)
Method
Wash and soak rice in water for 20-30 minutes. Heat the ghee in
deep and thick vessel on medium flame. Add cumin seeds when they start crackle,
add 4 cup of water (1:2 ratio between rice and water). Now add rice (without
water) in boiling water and cook it on low flame after covering with a lid. Once
a Jeera Rice is ready garnish with fresh chopped coriander and serve with curry
or dals.