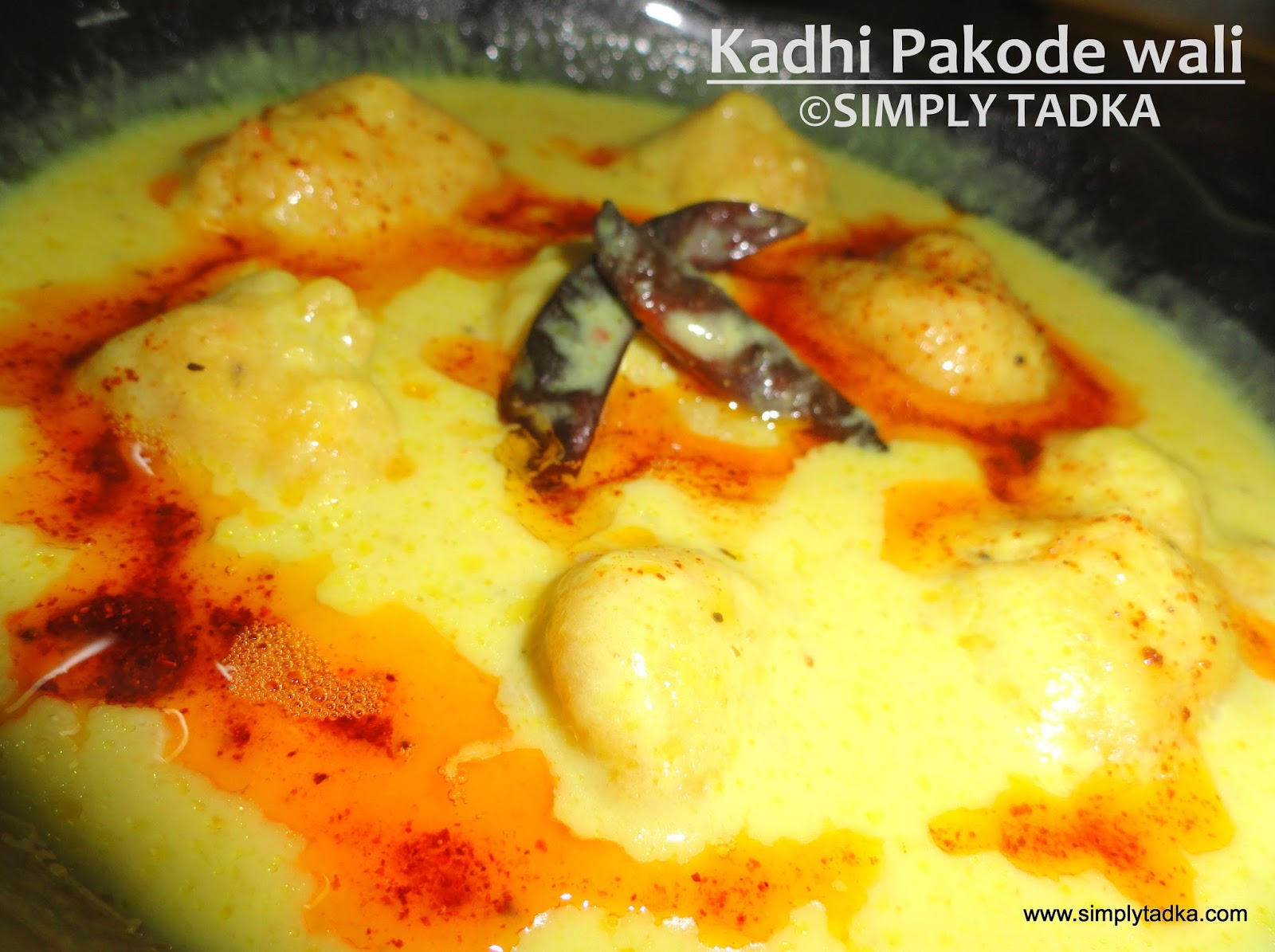 Last Updated on
Preparation
Time: 15 Minutes
Cooking Time:
1 Hour
Servings: 4
Category:
Veg- Curries
Ingredients
For Pakodis
2 Tbsp. Besan/
Gram Flour
Salt to
taste
1/4 Tsp. Cumin
seeds
1/4 Tsp. Carom
1/4 Tsp. Red
Chillies Powder
1/2 Tsp Coriander
Powder
A pinch of
meetha Soda
Water for
batter
Oil for
frying
For Kadhi
3 Cup Sour Buttermilk
(lassi)
1 Tbsp. Besan/
Gram Flour
1 Cup water
Salt to
taste
1 Tsp. Coriander
Powder
1/2 Tsp. Red
Chilies Powder
1/2 Tsp. Turmeric
Powder
Pinch of
Asafoetida
1/2 Tsp. Cumin
seed
1/2 Tsp. Mustard
seed
1/2 Tsp. Carom
3-4 Whole
Red Chilies
1 Tbsp. Ghee
Instructions:
For Pakodis
Mix all ingredients with water and make thick
batter like pakodas.
Now heat the oil on high flame in a deep
pan. By using spoon or hand whatever is comfortable for you, drop
the portion of batter into oil and fry till slightly golden and remove from the
oil.
For Kadhi
In bowl add
buttermilk, besan, salt, turmeric powder, and coriander powder,
red chilies powder and mix well with the help of hand blender.
Heat the
ghee on deep heavy bottom pan. Add carom, mustard seeds, cumin seeds, hing, and
red chilies into pan.
When they
start popping, add buttermilk mixture and cook this on a medium flame till the
mixture boils. Simmer and allow cooking slowly.
Add pakodis
in simmering kadhi and cook for 10-15 minutes.
Mix well and
turnoff the flame. Kadhi should have to slightly thick.
Now heat 2
tsp. ghee and add little red chilies powder and add this tadka to the
kadhi.
Now kadhi is
ready. Serve with boil rice or puris.