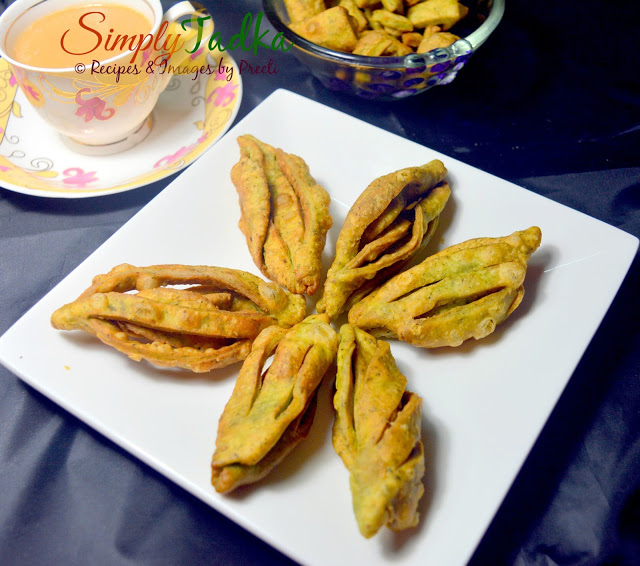 Last Updated on
Spinach
Namkeen Karela is very popular snack in India; these can be made on any
festival or occasion. You can be made this snack at home using few ingredients
in bulk quantity. They are very crisp and delicious.
Spinach
puree makes namkeen colorful and enhances the taste also. You can serve these
namkeen karela with tea or coffee. It's a good option in snack for travelling
food category.
You can
be used carrot puree for orange color, beetroot puree for red color, and color
gives more variations to namkeen. You can call Karela shaped namkeen, karela
namakpara, champakali, karela nimki, elo jhelo.
Karela Shaped Namkeen | Namkeen
Palak Karela | Spinach Champakali Nimki | Elo Jhelo
Preparation Time: 30 Minutes
Cooking Time: 20-30 Minutes
Servings: 12 (Depend on Size)
Category: Snacks
Cuisine: Indian
Cooking Method: Frying
Ingredients:
2 Cup All
Purpose Flour/ Maida
1/2 Cup
Spinach Puree
1 Tsp. Cumin
Seeds
Salt to
Taste
2 Tbsp.
Oil
Vegetable
Oil for Deep Frying
Instructions:
Mix all
ingredients together in large bowl and knead a dough, add water if needed.
Dough consistency
is hard like poori dough and cover it with clothe and keep aside for 15-20
minutes.
Divide the
dough into equal portion and prepare small balls. Take a one bowl and roll it
as small poori.
Now slowly
roll the slit poori and gently twist both sides to give a karela shape.
Keep the
karela shaped namkeen in separate plate and repeat the same process with whole
dough.
Heat the
oil in thick bottom wok. When oil is hot
enough, add namkeen one by one in small batches.
Now fry
the karela shaped namkeen in oil on medium flame till to crisp and golden
brown.
Remove the
crisp namkeen in a serving plate and serve with hot tea or coffee.
Notes: If you not like
spinach, you can use green color or avoid it. For more colorful namkeen, you
can used beetroot puree or carrot puree.
Tags: Karela recipe, karela shaped
namkeen recipe, snacks, holi recipes, simplytadka, blogging marathon, maida
recipe, travel snacks, tea snacks, namkeen recipe, homemade namkeen recipe, all-purpose
flour recipes, Diwali recipe, champakali recipe.
Check out the Blogging Marathon page for the other Blogging Marathoners doing this BM#73