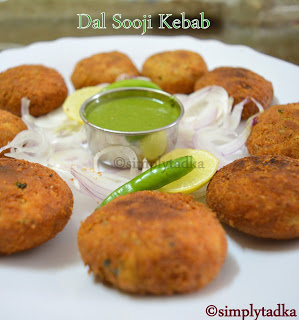 Last Updated on
Whenever i found leftover dal or any
vegetable curry in fridge, we used in kneading dough. It gives flavorful and
tasty parathas for breakfast. This time i used leftover dal to prepare tikki or
kebab. For this recipe, mix the carrot, onion with dal and cook with sooji. You
can serve this kebabs or tikkis with spicy green coriander chutney and lemon
wedges. It's a great evening snack with a cup of masala tea.
Leftover Dal Sooji Kebab | Dal Sooji Tikki
Preparation
Time: 10 Minutes
Cooking
Time: 50 Minutes
Servings:
4
Category:
Snacks
Cuisine:
Indian
Ingredients:
1 1/4 Cup Leftover Yellow dal
1/2 Cup Semolina/ Sooji
1 Medium Carrot, Grated
1 Medium Onion, Chopped
1 Tsp. Ginger and Chili Paste
1 Tsp. Mustard Seeds
6-8 Curry Leaves
Salt to Taste
1 Tsp. Raw Mango Powder
1/2 Tbsp. Lemon Juice
1 Tbsp. Oil
1/2 Cup Bread Crumbs
Few Coriander Leaves, Chopped
Vegetable Oil, for deep frying
Instructions:
Heat the 1 tbsp. oil in non-stick pan and
add mustard seeds and curry leaves.
When they start splutter add ginger chili
paste and chopped onion and sauté for 1 minute.
Add grated carrot and sauté for 2
minutes. Add raw mango powder, salt and lemon juice and mix it.
Add dal and mix well. Cook for two
minutes on medium flame.
Add roasted semolina and mix it. Cook
till to moisture absorbed.
Remove the mixture in separate plate and
add bread crumbs and coriander, knead it gently.
Heat the enough oil in separate wok on
medium flame. Divide the mixture into equal quantity and shape them in tikki
form.
Dip the each tikki into flour and water
mixture and roll into bread crumbs.
Fry the tikkis in small batches till to
golden and crisp on medium flame. Serve hot
tikkis with green chutney.
Notes: You can use any leftover dal for this
recipe.
Tags: leftover dal, dal recipes, semolina recipe, simplytadka,
snacks, starters, monsoon recipes, tea time snacks, bread crumbs recipes,
leftover recipes, kebab recipes, cutlet recipes, tikki, healthy recipe.
Enter your email address:
Delivered by FeedBurner