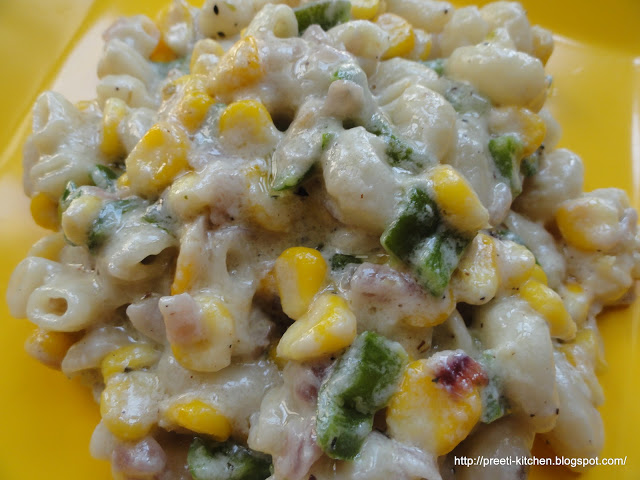 Last Updated on
Today I
post Macaroni Pasta with White sauce under this recipe; I add onion, sweet
corn, capsicum and so more ingredients. It's not so much typical Italian White
pasta but it's little more tasty and creamy with Indian Flavour.
Macaroni is a variety of moderately extended, dry pasta made with durum wheat, and is normally cut in short, hollow shapes; however, the term refers not to the shape of the pasta, but to the kind of dough from which the noodle is made. Although home machines exist that can make macaroni shapes, macaroni is usually made commercially by large-scale extrusion. The name derives from Italian "maccheroni", although today this name has fallen into disuse, in favor of more popular names "rigatoni" or "tortiglioni".
Ingredients
1/2 cup
macaroni
Olive oil
Salt
For white
sauce
2 tsp.
butter
1/2 cup
cream
1/4 cup
milk
1 tbsp.
grated cheese
Salt to
taste
1/4 tsp.
black pepper powder
1/2 tsp.
lemon juice
1/4 tsp.
oregano
For vegetable
1 tbsp.
chopped onion
1 tbsp.
chopped green capsicum
1 tbsp.
boiled sweet corn
Method
Heat the water in the pan on high
flame, when water starts boiling add pasta, oil and salt. Check pasta
continuously. It's become soft and tender within 15 minutes. Press and check
the pasta's softness means it's become well-cooked not over-cook or under-cook.
Drain the water from the pasta and wash it with cold water and toss with little
olive oil.
Now heat the pan and add butter. Now
add and sauté onion for 2 minutes. Add chopped capsicum and again sauté for 2
minutes until cook well. Now add cream and milk when cream start boiling, add
salt and black pepper. Mix well. Add macaroni
and cheese mix well. Add lemon juice and garnish with oregano.
Submit this pasta recipe with following events:
Blogging Marathon page for the other Blogging Marathoners doing BM#15