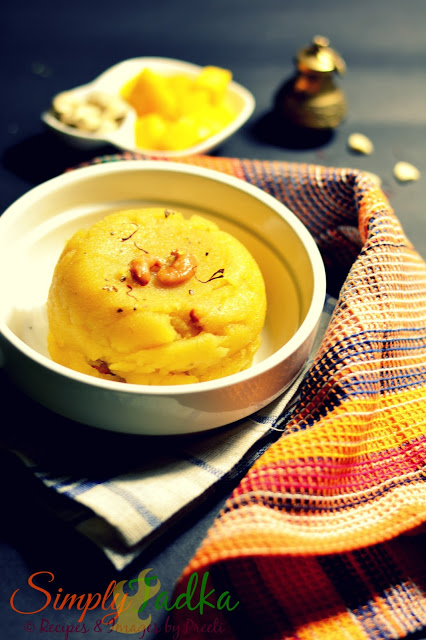 Last Updated on
Mango Kesari
or Mango Halwa is one of the simplest mango vegan sweet pudding that you can
make anytime. Right now mango season going on and lots of mango varieties
available in market. I love this recipe especially prepared for vegan sweets
theme.
For this recipe, I used kesar mango, first clean and blend the mango pulp in mixer till to smooth texture, after that cooked with roasted semolina in clarified butter or desi ghee.  Without using any food color, its look so pretty, glossy and flavorful. 
Mango Rava Kesari | Mango Semolina Pudding | Indian Pudding

Preparation Time: 10 Minutes
Cooking
Time: 15-18 Minutes
Servings:
3
Category:
Sweets
Cuisine:
Indian
Cooking
Method: Stir Fry



Ingredients

1/4 Cup Ripe Mango Pulp
1/4 Cup Semolina
3 Tbsp. Clarifying Butter/ Desi Ghee (optional for vegan)
3/4 Cup Water
1/2 Cup Sugar
1/2 Tsp. Cardamom Powder
Few Strands Saffron
Cashews, for garnishing



Instructions
Heat the ghee in non-stick pan and side by side boil the water in separate sauce pan, If you are vegan just dry roast the semolina in non-stick pan. 
Add the semolina and broken cashew in
ghee and roast till to light brown color.
Blend the mango in mixer till to smooth
consistency.
Now add this puree in boiling water with
few strands of saffron. 
Add the boiling water into semolina and
stir continuously to avoid lumps.
Stir till to semolina becomes fluffy and
absorbs whole water.
Add sugar and cardamom powder, mix again.
Now it's look alike glossy and shiny.
Garnish with fried cashew halves and
serve hot.

Note: You can add 2-3 drops of yellow or orange color in
water, optional.
You can reduce the sugar quantity as per
taste.

Tags: How to make mango kesari at home, mango rava kesari
halwa, halwa recipes, vegan sweets, mango recipes, semolina recipes, sooji
recipes, rava, sweets, pudding, kesari halwa, mango halwa, simply tadka,
blogging marathon, food blogging, indian sweet recipes, indian halwa recipes,
festival recipes, cashew recipes, diwali recipes. 

Check out the Blogging Marathon page for the other Blogging Marathoners doing this BM#74
Enter your email address:
Delivered by FeedBurner