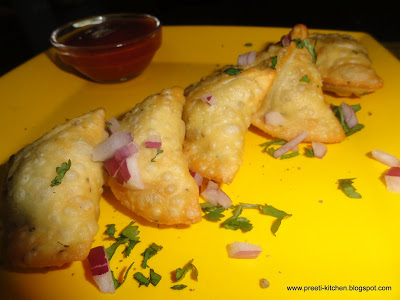 Last Updated on
Today my two special friends came
to my home, I felt great. I made ​​this "Matter Baby Samosa",
they love it. Samosa is a very famous snack in North-Delhi with tea or coffee. Mostly
samosa prepared with potatoes but now people more concern about their health
and they avoid all carbohydrates stuff, still we enjoy samosa with decreasing
value of fat. So here we use Mattar (Peas) instead of Potatoes. You can keep
this Samosa for 2-3 days in airtight box. we add carom seeds in crust which helps in digestion and good for health.
Ingredients
2 cup refined flour (maida)
1 tsp. carom seed (ajwain)
Salt to taste
1 tbsp. pure desi ghee
Water for dough
2 cup boiled peas
Salt to taste
1 tsp. cooking oil
1 green chili chopped
1 tbsp. green coriander chopped
1 tsp. lemon juice
¼ tsp. cumin seeds
¼ tsp. red chillies powder
½ tsp. coriander powder
A pinch of garam masala
Oil for deep frying
Tomato ketchup
Green chutney
Method
In bowl add flour, salt, carom seeds and ghee and mix well with figure
tips. Now add enough water slowly for tight dough like for kachori and samosa. Keep
covered under a wet cloth for at least half an hour.
Heat the
pan on medium flame and add cooking oil in it. Add cumin seed when they start crackle, add boil peas. Now add green chillies,
coriander, lemon juice and spices. Cook for 5 min. and keep
aside for cool.
Divide the
dough into small sized balls and roll out one of them. Cut in the centre to get
two pieces. Make cones from the pieces using few drops of water to seal the
corners. Stuff the masala matter (peas) filling and press the corners to seal
the samosa. Repeat for rest of the dough and stuffing. Heat oil and deep fry the samosa on medium flame till
golden brown and crisp. Drain the excess oil on a tissue paper and serve hot
with green chutney or sauce and tea.
Picture gallery
submit this recipe with following events:_