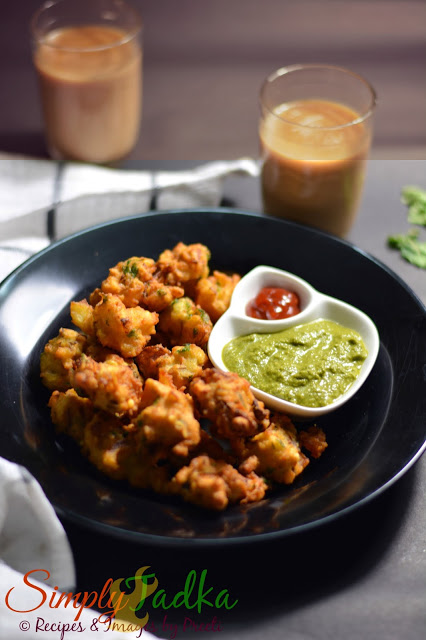 Last Updated on
Moong dal fritters or pakoras are fried snacks made with yellow split
lentils paste combine with spices, onions and mashed potatoes. It's very tasty
and crispy snack and the best way is, to serve with green chutney in rainy
season. Even you can enjoy and serve this snack during festive time.





For this recipe, you have to wash and soak the dal in water
for atleast 2-3 hours to get smooth paste. After that mix the mashed potatoes,
spices, herbs and onions and fried them in small batches. I love these types of
snacks with my fav TV shows. It takes only few minutes to cook and love to eat
with mix of green chutney and imli chuntey and hot cup of tea.



Moong Dal Fritters|
Moong Dal Bhajiyas| Moong Dal Pakoras
Preparation Time: 15 Minutes
Cooking Time: 15
Minutes
Servings: 3
Category: Snacks
Cuisine: Indian
Cooking Method: Frying
Ingredients:
1 Cup Split Yellow Gram
1 Medium Sized Potato, Boiled and Mashed
1 Medium Sized Onion, chopped
2 Green Chilies, Finely Chopped
2 Tbsp. Green Coriander, Finely Chopped
Salt to Taste
1 Tsp. Carom Seeds
Pinch of Asafoetida
1 Tbsp. Bengal Gram Flour
Oil For Deep Frying
Instructions:
Wash and Soak the dal in enough water for 5-6 hours.
Drain the water completely and grind in a mixer till to smooth
consistency. Transfer the batter in a separate bowl.
Add mashed potatoes, onion, chilies, coriander, carom seeds, hing, salt
and besan. Mix well.
Heat the oil in a thick bottom wok. When oil is hot enough, drop the spoonful
batter in small batches in wok.
Deep fry them until to golden and crisp on medium flame.
Serve moong dal fritters hot with green chutney and coffee.

Note: Take care about consistency, mixture neither watery
nor thick.

Tags: moong dal fritters, moong dal vadai, moong dal
pakoras, moong dal bhajiyas, snacks, moong dal recipes, yellow gram recipes,
instant recipe, monsoon recipes, evening snacks, holiday recipes, potato
recipes, onion recipes, crispy pakoras, simply tadka, foodblogging, indian
snacks, vegan recipes, pakoras, fritters.
Did you
make this recipe?
If yes,
do let us know how it turned out in the comments below.
Do share a picture with us
simplytadka@gmail.com
or share on Instagram with hashtag #simplytadkarecipes
and tag us @simplytadka.
Check out the Blogging Marathon page for the other Blogging Marathoners doing this BM#78