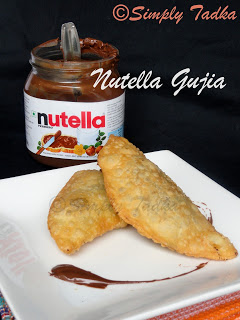 Last Updated on
After a very long time, participated with
my lovely co bloggers or family of Blogging Marathon, really miss all of you
and your entire journey. Now I'm again come back with full enthusiasm to
participate with all of you. This time I choose "Cooking with Nutella" theme
under BM#55, for this theme we have to cook anything with nutella as main
ingredient.
Here is my first recipe, Nutella Gujiya
or Nutella Turnover in which we made just like gujiya or puff stuffed with
nutella. It's really tasty and fusion of traditional gujiya, you can prepare
anytime for kids or even adults too in few minutes. In this recipe, add some pieces of ripe
banana but you can add any fruit like mango, strawberry or even marshmallow too
which enhance the taste of nutella.
Preparation
Time: 20 Minutes
Cooking
Time: 20 Minutes
Servings:
12
Category:
Fusion
Ingredients:
1 Cup Nutella
1 Ripe Banana Slices
2 Cup Refined Flour/ Maida
2 Tbsp. Melted Ghee/ Oil
Lukewarm water for dough
Oil, for deep frying
Instructions:
Sieve flour and mix melted ghee with fingertips.
Add enough lukewarm water for making stiff dough for gujia crust. Keep aside
for 20 minutes and cover with wet muslin clothe. Divide this dough into equal
balls. Roll this into round chapati form via rolling pin.
Add 1 tbsp. nutella in center and small banana
slices smear the edges with maida and water thick paste and close the edges
carefully. Prick the edges with the help of fork and keep aside in separate
plate. Do same process with rest of dough, you can use gujia maker too.
Heat the enough oil in wok for deep frying. When
oil is hot enough, place 2-3 gujia in one time till to golden and crisp. Now
Nutella gujiya is ready to serve.
Tags: Nutella recipes, chocolate recipes, kid's special
recipes, easy and simple dessert recipes, fusion recipes, sweet recipes,
simplytadka, Nutella gujiya recipes, nutella gujia recipe, gujia recipe,
blogging marathon #55, banana recipes, how to made nutella gujia, nutella
turnover,
Enter your email address:
Delivered by FeedBurner