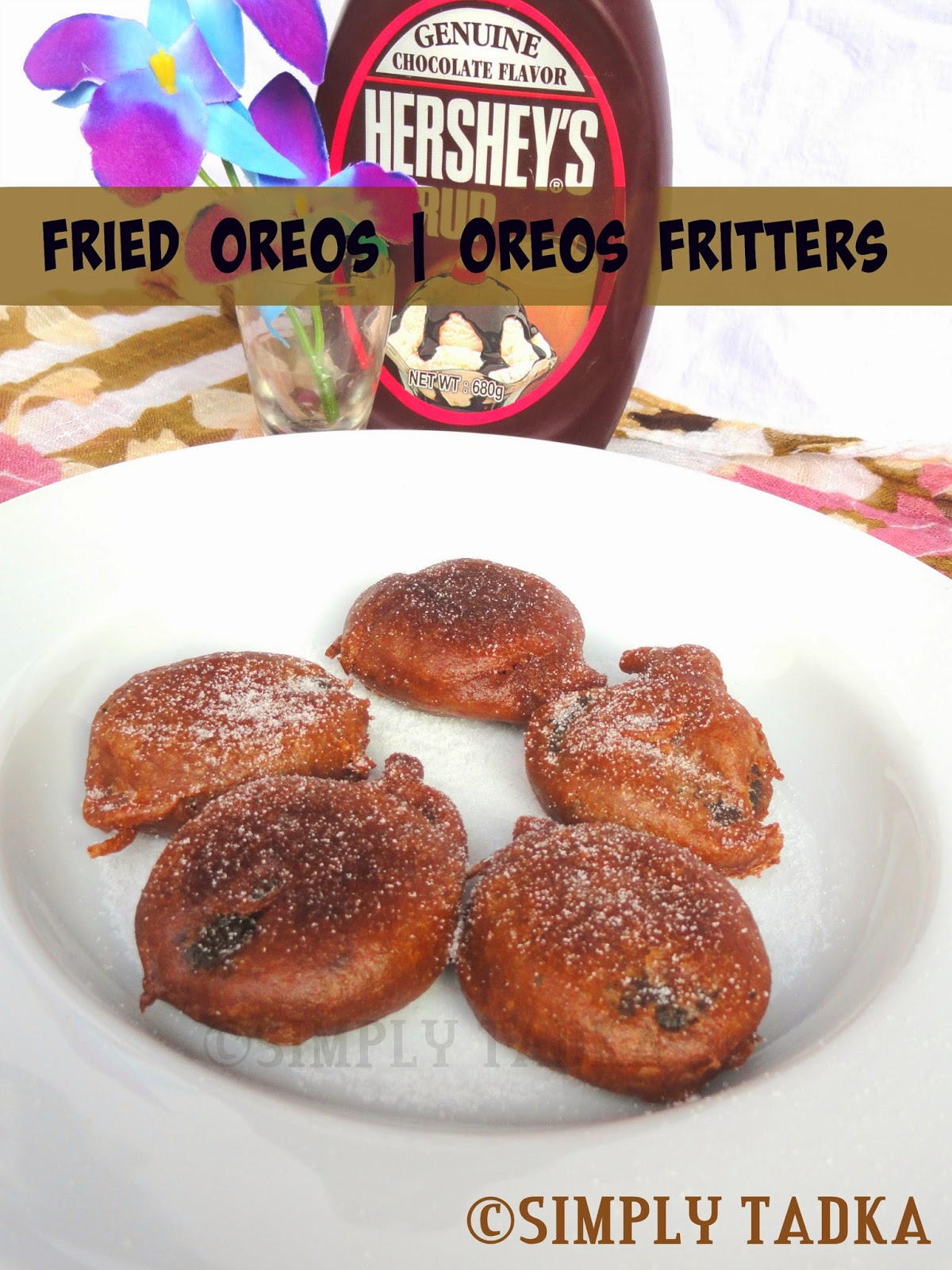 Last Updated on
Today I made Pancakes for my hubby but I have
leftover batter in large quantity. To use this leftover pancake mix, I just
tried Oreo fritters or you can say Fried Oreo. For this recipe, you have to just roll the Oreo cookies in pancake batter and deep fry them till to golden
and serve with chocolate sauce. If you have not Oreo cookies then replace with
any other chocolate sandwich cookies. It's really awesome in taste and so easy
to cook. For pancake batter, you can go with instant pancake mix from market.
Preparation
Time: 10 Minutes
Cooking
Time: 20 Minutes
Servings: 4
Category:
Snacks
Theme: Fusion
Ingredients:
Oreo Cookies
2 Cup Pancake Mix
Oil for Deep Frying
Icing Sugar for Dusting
Chocolate Sauce as Dip
Instructions:
Mix the pancake batter according to package
instructions and you can prepare homemade pancake batter. For this check
pancake batter recipe.
Heat the sufficient oil in wok and when oil is hot
enough, dip the Oreos one by one in pancake batter and then fried them till to cook.
Drain on kitchen towels and garnish with icing sugar. Serve hot with chocolate
sauce.
Notes: you can use instant chocolate pancake
batter for this recipe or regular pancake mix.
Tags: how to prepare oreo fries at home, oreo fries, fried oreos, oreo
cookies, oreo recipes, kids love, valentine recipes, fusion recipes, instant
recipes, snacks, party recipes, oreo biscuits, oreo fritters, oreo ki pakore,
pakore recipes, fritter recipes, how to make oreo fritters at home, fried
recipes, simplytadka recipes, instant recipes, pancake recipes, leftover
recipes.
Enter your email address:
Delivered by FeedBurner