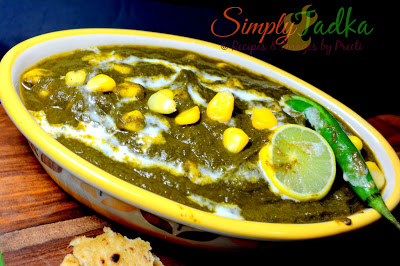 Last Updated on
Popeye was
definitely on to something. Spinach is a super food loaded with tons of
nutrients in a low calorie package. Dark, leafy greens like spinach are
important for skin, hair, and bone health. They also provide protein, iron,
vitamins, and minerals.
Palak Corn
curry is another variation of palak paneer, just replace the paneer with corn.
Spinach and corn both are highly nutritious ingredients which most of time I used
in making sandwiches, rice, pastas and many more dishes. Sweetness of corn enhances
the taste of spinach gravy, because leafy vegetables are slightly bland in
taste.
To prepare this gravy just cook the spinach puree with onion-tomato
paste and garnish with corn and cream. Addition of curd mariation takes the
gravy into another level just like Punjabi Sarso Ka Saag. You can serve this Palak
Makai or Palak Corn Curry with Naan, Lacchaa Parathas or rice.
The possible health benefits of consuming spinach include improving
blood glucose control in people with diabetes, lowering the risk of cancer,
reducing blood pressure, improving bone health, lowering the risk of
developing asthma, and more.
If you looking
more Spinach recipes then check here:
Palak Makai
Ki Sabzi | Spinach Corn Curry
Preparation time: 15 minutes
Cooking time: 20-25 Minutes
Serving: 4 Persons
Category: Main Course
Cuisine: Indian
Cooking Method: Blending, Stir
Fry
Ingredients
1 Small Bunch Spinach, Chopped
1 Cup Sweet Corn Kernels
2 Medium Sized Tomatoes, chopped
2 Medium Sized Onions, chopped
2 Green Chilies, chopped
2 Tsp. Ginger, chopped
1 Tsp. Coriander Powder
1/2 Tsp. Red Chili Powder
1/4 Tsp. Turmeric Powder
Salt to taste
1/2 Tsp. Cumin seeds
1 Tbsp. Clarifying Butter
Instructions
Clean and wash spinach. Boil spinach with water into pan for 5
minutes.
Now drain water and wash under running cool water to maintain
green color.
Blend boiled spinach into blender for smooth puree consistency.
Spinach puree is ready.
Blend tomatoes in blender to make smooth puree.
Combine chopped onions, green chili and ginger and grind it. Onion
chili paste is ready.
Heat the ghee in the pan on medium flame. Add cumin seed, when
starts splutter.
Add onion-chili paste and cook till to little golden.
Add tomato puree and cook till to gravy starts leaving sides.
Add spinach puree and cook two minutes.
Add spices and corn mix well. Add salt according to taste and
again mix well.
Cook for 10 minutes more and garnish with cream.
Palak corn curry is ready to serve with missi roti or laccha
paratha.
Tags: how to make palak corn curry, maincourse,
lunch menu, dinner menu, gravy, spinach, palak, corn, curries, indian curry,
northindian cuisine, simplytadka, foodblogging, main course, party menu, winter
recipe, healthy meal, palak makai ki sabzi, main dish, vegetarian, medium Level
Cooking, everyday recipe, protein rich recipe, mineral rich, low calorie
recipe, punjabi cuisine, bloggingmarathon, healthy recipe, iron rich recipes.

Check out the Blogging Marathon page for the other Blogging Marathoners doing BM# 80