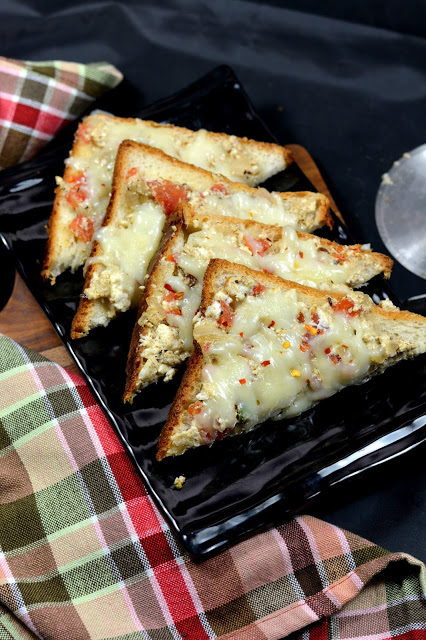 Last Updated on

Paneer cheese toast is very easy and tasty snack which made with bread, paneer and cheese. For this recipe first you have to prepare paneer burji like stuffing, cooked crumble cottage cheese with onion, tomatoes and spices and then spread this burji on bread and cheese, finally bake them as toast. Paneer is made by milk which is very protein rich ingredient. You can serve these toasts as snacks or in kid's tiffin also.
Paneer is fresh cheese which made by curdling heated milk with vinegar or lemon juice. Its crumbly and moist form is called chhena in India. It is also known as curd cheese, chhena, paneer, cottage cheese.
Paneer Cheese Toast
Preparation Time: 15 Minutes
Cooking Time: 25 Minutes
Servings: 4
Category: Snacks
Cuisine: Fusion
Cooking Method: Bake
Ingredients
200gms Paneer/ Cottage Cheese
8 Bread Slices
2 Cups Mozzarella Cheese
1/2 Cup Onion, Finely Chopped
2 Green Chilies, Finely Chopped
1 Tbsp. Ginger, Finely Chopped
1/2 Cup Tomatoes, Finely Chopped
2 Tbsps. Olive Oil
1 Tsp. Cumin Seeds
1/2 Tsp. Turmeric Powder
Salt to Taste
1/2 Tsp. Garam Masala
Coriander
Red Chili Flakes
Oregano
Instructions
Heat the oil in pan and add cumin seeds. When they starts splutter, add onion, ginger and chilies. Saute till to translucent.
Add chopped tomatoes, turmeric powder, garam masala, salt, coriander powder. Mix well and cook till to soft.
Add crumble paneer and coriander leaves and saute for 2 minutes.
Take a bread slices and spread paneer mixture. Spread grated cheese and sprinkle oregano and chili flakes on the top.
Preheat the oven at 180 degree Celsius. Bake the bread cheese toast for 10 minutes till to cheese melts. Serve with ketchup and coffee.
Tags: how to make paneer cheese toast, toast recipe, bread recipe, cheese recipe, paneer recipe, bake toast, baking recipe, simplytadka, kids love, snacks, sandwiches, lunchbox ideas, protein rich, blogging marathon, vegetarian recipe, medium level recipe, paneer burji recipe, onion, tomatoes.
Check out the Blogging Marathon page for the other Blogging Marathoners doing BM# 80