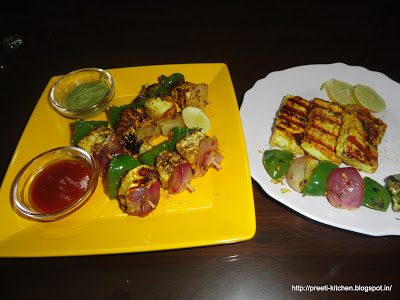 Last Updated on
Paneer Tikka is one of the
most common and simple tandoori snack which love by everyone….but still it's
not as simple as look. Mostly people cook Paneer Tikka in tandoor or oven….. But
today I tried this on grill pan which look as awesome as taste……….so that's why
we call grill paneer tikka or tawa paneer tikka.
Under this paneer tikka
which marinated into hung curd with spices for two hours………and cook them on
grill pan……
Today is last day of BM#13,
this time I had participated in twice time ……..Here is my all post at one
place
BM#13 under Chip Theme
BM#13 under Kebab Theme
Ingredients
300 gm. Cottage cheese
(paneer)
1 onion
1 capsicum
1 cup hung curd (keep it
for half hour in malmal fabric)
1/2 tsp. turmeric powder
1/2 tsp. garam masala
1 tsp. coriander powder
1/2 tsp. red chillies powder
Salt to taste
1/2 tsp. black pepper
powder
1 tsp. olive oil
1 tbsp. vegetable oil
1/2 tbsp. kasuri methi
Chaat masala
Lemon wedges
Grill pan or tawa
Method
Cut the cottage cheese into
rectangle form or square shape and cut the onion and capsicum into square dice
shape. Now add hung curd, salt, olive oil, kasuri methi, red chillies powder,
turmeric powder, coriander powder, garam masala and black pepper power in one
bowl and mix well. Now marination masala is ready. Add cottage cheese into marinating
mixture and keep its bowl with cover into freeze for 2 hours.
After two hours, heat the
grill pan on medium gas and add ½ tbsp. vegetable oil on a grill pan. Place the
paneer cubes on the pan and cook till both side cook well o golden color
appears.
Wash and cut the capsicum
and onion into square dice shape and mix these into marination paste.
Now toss the onion and
capsicum cubes on the pan for 5-10 mintues….. Just sauté
Now take the tooth pick or
skewers, thread the onion, paneer and capsicum into skewers and sprinkle chaat
masala and lemon juice…… serve with drink…..enjoy….
Submit this recipe with following events as under:
Blogging Marathon page for the other Blogging Marathoners doing BM#13