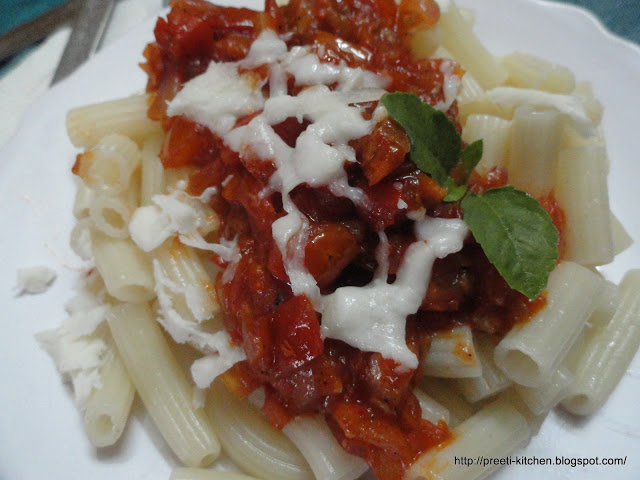 Last Updated on
Pasta is a staple
food of traditional Italian cuisine. Today I post pasta recipe under Blogging Marathon….Italian
Cuisine with Indian twist theme. So here I came with "Penne pasta with Spicy Tomato
Sauce"……in which we used al dente penne pasta means fully cooked neither over or
nor under-cook with water and salt. For Spicy Tomato sauce which I prepared with
Indian spices and very simple cooking technique at home.
Pasta is generally a
simple dish, but comes in large varieties because it is a versatile food item.
Some pasta dishes are served as a first course in Italy because the portion
sizes are small and simple. The servings are usually accompanied by a side of meat.
Pasta is also prepared in light lunches, such as salads or large portion sizes
for dinner. It can be prepared by hand or food processor and served hot or
cold. Pasta sauces vary in taste, color and texture. When choosing which type
of pasta and sauce to serve together, there is a general rule that must be
observed.
Ingredients
For Pasta
Penne pasta
Few drops of Olive
oil
A pinch of Salt
Water (double of
pasta)
For Spicy Tomato Sauce
1 Onion (roughly
chopped)
1 tsp. Olive oil
2 Tomato (roughly
chopped)
1 tsp. Green chilli
sauce
2 tsp. Tomato sauce
Salt to taste
1/4 tsp. Black
pepper
1/4 tsp. Red chilli
powder
Other ingredients
Basil leaves (Indian
Basils)
Grated cheese
Direction
Heat the water in
the pan on high flame, when water starts boiling add pasta, oil and salt. Check
pasta continuously. It's become soft and tender within 15 minutes. Press and
check the pasta's softness means it's become well-cooked not over-cook or
under-cook. Drain the water from the pasta and wash it with cold water and toss
with little olive oil.
How to prepare Spicy
Tomato Sauce
Heat the pan on
medium flame with few drops of olive oil and sauté onion for 2 minutes, when
onion look little transparent pinkish color add roughly chopped tomatoes and sauté
until cook completely and look like sauce add green chilli sauce and tomato
sauce and all spices. Mix well and sauté for 2 minutes. Remove pan from the
fire and keep aside to cool.
How to present Penne
Pasta with Spicy Tomato Sauce
There are so many way to present one dish, today I post 2 way to serve one dish. First one,
Now place the few portion of cooked pasta into serving bowl or plate. On the top of pasta, place the spicy tomato sauce in centre. Now on the top sprinkle cheese and garnish with basil leaves.
Second one is, Combine together cooked pasta with Spicy Tomato sauce and garnish with cheese and basil leaves.
Submit this pasta
recipe with following events:
Blogging Marathon page for the other Blogging Marathoners doing BM#15