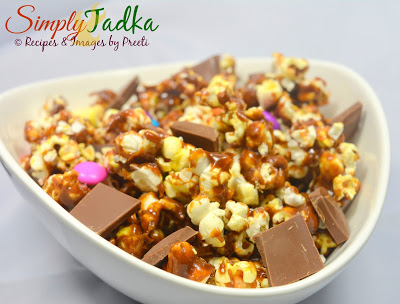 Last Updated on
Caramel corn or caramel popcorn is an American confection made of popcorn coated with a sugar or molasses based caramel candy shell. Typically a sugar
solution or syrup is made and heated until it browns and becomes thick,
producing a caramelized candy syrup. This hot candy is then mixed with popped
popcorn, and allowed to cool. I used brown sugar molasses for golden brown
color which looks perfect on popcorn.
The process creates a sweet flavored, crunchy snack food or treat. Some varieties,
after coating with the candy syrup, are baked in an oven to crisp the mixture.
Mixes of caramel corn sometimes contain nuts, such as peanuts, pecans, almonds, or cashews. But this time I add chocolate cubes and Cadbury gems for more flavors
with chilled pepsi.
Salted Caramel Popcorn recipe | Candy Corn
Recipe
Preparation Time: 5 Minutes
Cooking Time: 15 minutes
Servings: 1 Tub
Category: Snacks
Cuisine: Fusion
Ingredients:
Popped Popcorn
1 Cup
Brown Sugar
1/4 Cup
Condense Milk
1 Tbsp.
Butter
Vanilla
Essence, Few Drops
Salt,
Pinch
Baking
Soda, Pinch
Chocolate
Pieces, Garnishing
Cadbury
Gems, Garnishing
Instructions:
Heat
the butter in nonstick pan on medium flame, add brown sugar and stir
continuously till to melt completely.
When sugar start melted till to sauce
consistency add pinch of salt and condense milk and mix it.
Now caramel sauce
is ready switch off the flame.
Add vanilla essence and pinch of baking powder
in sauce and mix it for smooth consistency.
Now add popcorn and roll in it
gently.
Serve caramel popcorn in bowl with chocolate pieces and gems.
Tags:
Caramel recipes, blogging marathon, simply tadka, food blogging, caramel
popcorn, popcorn recipes, movie snacks, snacks , kids favourite, timepass
snacks, corn recipes, corn kernals recipes, sugar recipes, condense milk
recipes, fusion, sweet recipes, instant recipes, brown sugar recipes, toffee
popcorn, candy popcorn.
Enter your email address:
Delivered by FeedBurner