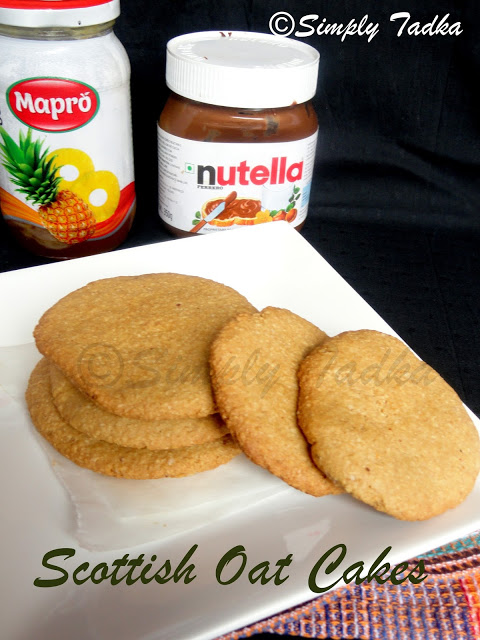 Last Updated on
Oatcake
is a type of flatbread, similar to a cracker or biscuits which are prepared
with oatmeal as a primary ingredients and addition of plain or whole wheat
flour as well. Oatcakes are cooked on a griddle in scots or baked in oven.
Oatcakes
are commonly served with jam for breakfast or afternoon tea topped with delicacies.
Love this recipe, specially its taste with increase more with mango or
pineapple jam. I shared this recipe under the theme of International Breakfast
for Mega Blogging Marathon.
Scottish Oatcakes
Recipe
Preparation
Time:  15 Minutes
Cooking
Time: 30 Minutes
Servings:  12
Category:
Baking
Cuisine: UK
(Scotland)
Ingredients
2 Cups of Oatmeal
1/2 Cup Wheat Flour
1/2 Cup Sugar Powdered
1/2 Tsp. Baking Powder
1/2 Tsp. Salt
1/4 Cup Butter
1/2 Cup Water, Warm
Instructions:
Preheat the oven to 180.C. Mix the oatmeal,
flour, baking powder and salt together in large bowl. 
Add butter and water in oat mixture until to
form a mass to knead dough. Keep aside to rest for 10 minutes.  
Roll the oatcakes dough into ½ inch thick and
cut into round form.
Place the round oatcakes on to a greased
baking sheet and bake it for 20-25 minutes or until to golden and little crisp.
Serve Oatcakes with butter or jam and milk.
Notes: You can use milk or buttermilk instead of
water if you like. You can use plain flour or wheat flour or can be eliminated
for more gluten free recipe.
Tags:
how to make Scottish oatcakes, oatcakes, oat breads, baking recipes, breakfast
recipe, Scottish recipes, International recipe, simply tadka, oats recipes,
healthy recipes, bread recipes, cookies, blogging marathon.
Check out the Blogging Marathon page for the other Blogging Marathoners doing BM# 56