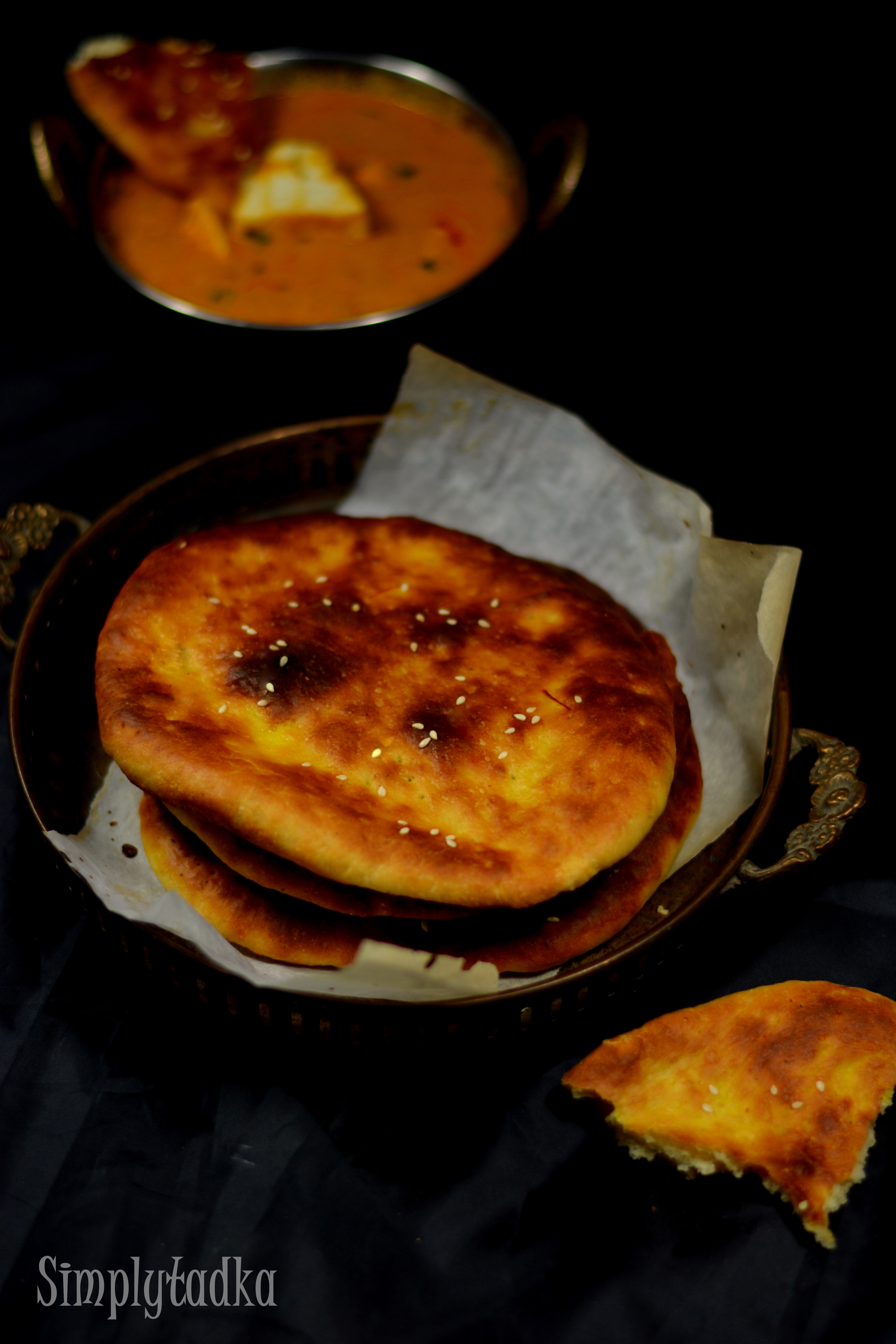 Sheermal is a saffron flavored traditional flatbread made in Iran and India. It is very popular in Lucknow and Hyderabadi delicacies in India. It is also part of Awadhi Cuisine and enjoyed with meat gravies.
'JUMP TO RECIPE' 'PRINT RECIPE' 
Sheermal is a mildly sweet naan made out of maida, leavened with yeast, baked in a tandoor or oven. Sheermal was traditionally made like roti. Today, sheermal is prepared like naan. The warm water in the recipe for naan roti was replaced with warm milk sweetened with sugar and flavored with saffron and cardamom. The final product resembles Danish pastry.
Sheermal is sometimes served with Lucknow kababs or alongside nihari. This time I shared egg free sheermal recipe with tandoor or oven version. You can cook on hot tawa also as naan.  I love the flavors of saffron, sweetness of milk and sugar in this bread which makes tastier with any paneer gravy dish.
Ingredients
1 Cup All Purpose Flour/ Maida
1 Cup Milk
2 Tbsp. Butter
1 Tsp. Ghee
2 Tbsps. Sugar
Pinch of Salt
1 Tsp. Yeast
Few Strands of Saffron
1/2 Tsp. Sesame Seeds
How to make Sheermal recipe
Add flour, sugar, salt, ghee, butter, yeast, milk and mix nicely to make a little soft dough. Cover bowl with cling sheet and allow it to rest for 1 hour. Divide dough into 2 portions and dust some flour and roll into small round shape. Transfer the round shaped sheermal into a baking tray and apply some milk wash. Sprinkle some sesame seeds on the top and allow proofing again for 10 minutes. Bake the breads into oven for 5-8 minutes at 200degree. Remove and serve with paneer dish.
Add 2 tbsp. warm milk, saffron and sugar, mix gently (Milk wash recipe)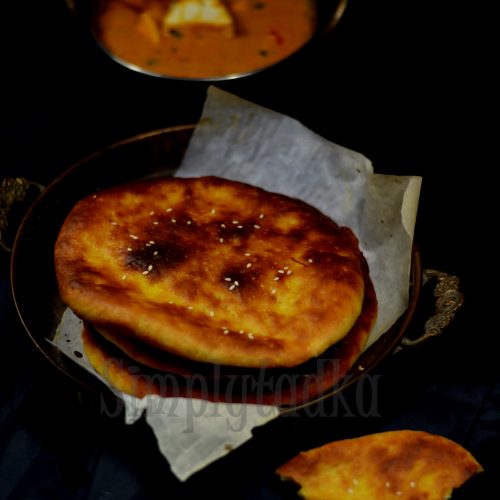 Sheermal Recipe
Sheermal is a saffron flavored traditional flatbread from the Awadhi Cuisine and enjoyed with meat gravies.
Ingredients
1 Cup All Purpose Flour/ Maida

1 Cup Milk

2 Tbsp. Butter

1 Tsp. Ghee

2 Tbsps. Sugar

Pinch of Salt

1 Tsp. Yeast

Few Strands of Saffron

1/2 Tsp. Sesame Seeds
Instructions
Add flour, sugar, salt, ghee, butter, yeast, milk and mix nicely to make a little soft dough.

Cover bowl with cling sheet and allow it to rest for 1 hour.

Divide dough into 2 portions and dust some flour and roll into small round shape.

Transfer the round shaped sheermal into a baking tray and apply some milk wash.

Sprinkle some sesame seeds on the top and allow proofing again for 10 minutes.

Bake the breads into oven for 5-8 minutes at 200degree. Remove and serve with paneer dish.

Add 2 tbsp. warm milk, saffron and sugar, mix gently (Milk wash recipe)
Check out the Blogging Marathon page for the other Blogging Marathoners doing BM# 92
Loading InLinkz ...


——————-*****—————————–