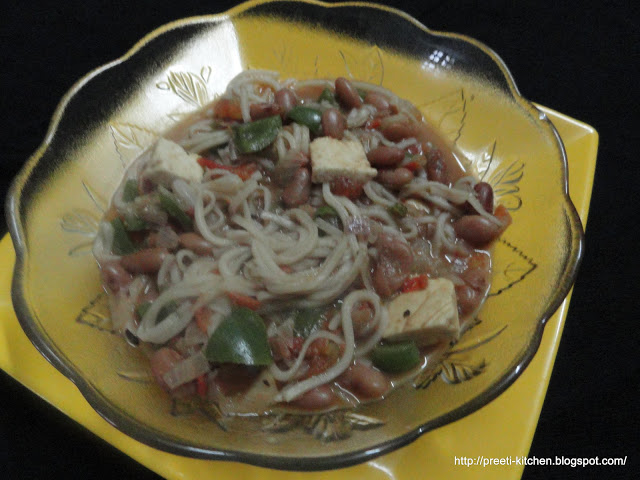 Last Updated on
Today
I post last recipe under blogging marathon 15 and still waiting for BM # 16…….Here
is my post is "Spaghetti with Bean Curry"…… In this recipe, I was serve boiled noodles with beans and
capsicum curry or you can say just like rajma with little addition of paneer
and capsicum for more taste…… it's good
for kids and adults both for health as well as taste…. You can serve this as
noodles or as soup……it's a version of soupy noodles…..
1 cup Noodles (boiled)
1 cup boiled red kidney beans
(rajma)
1 tbsp. chopped
capsicum
1 onion (chopped)
1 tomato (chopped)
Few cubes of cottage
cheese or tofu
1 green chilli (chopped)
1/4 tsp. oregano
Salt to taste
1/2 tsp. coriander
powder
1/2 tsp. red chillies
powder
Olive oil
Direction
First we have to boil
the noodles with salt and few drops of olive oil in boiling water for 15-20
minutes. Now drain the water and wash with cool water and toss with oil.
Now wash and soak
the beans overnight in double water quantity and boil it with ½ tsp. salt.
Heat the olive oil
into the pan and sauté onion and green chilli for 2 minutes, when it's become transparent
add capsicum. Again sauté for 5 minutes and when both become soft, add tomatoes
and mix well. Add spices and oregano, mix it. Add beans with little water
consistency. Here we use bean stock (water which we used in boiling beans). Now add paneer or tofu and noodles cook for 5
minutes….check the consistency and taste. It should be like little soupy. Serve this
soupy taste…..spaghetti with bean curry.
Submit this recipe with following events:
Blogging Marathon page for the other Blogging Marathoners doing BM#15