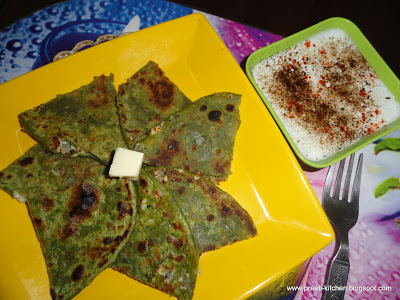 Last Updated on
Spinach Cheese Paratha /P3, Here P3 means palak paneer paratha.
It's a great combo of palak paneer and full source of minerals and
calcium, great meal for breakfast or lunch box. You can serve this paratha with
chutney, curd and pickle.
Ingredient
For dough
1 ½ cup wheat flour
½ cup plain flour
10-15 spinach leaves
Salt to taste
For stuffing
200 gm. Crumbled cottage cheese (paneer)
2 chopped green chillies
1 tbsp. green coriander
1 small sized chopped onion
Salt to taste
½ tsp. red chillies powder
½ tsp. chaat masala
Puree ghee for greasing
Method
For dough
In bowl, add whole wheat flour, plain flour, salt.
Blanch the spinach leaves for 2-3 minutes and make puree in
mixer or by blender.
Add spinach puree in flour and knead soft dough for parathas.
Now leave for 15 minutes and cover it with wet cloth.
For stuffing
Mix cottage cheese, onion, green chillies, coriander, chaat
masala, red chillies powder, salt in same bowl.
For parathas
Roll out the one portion of the dough, place 2 tsp. portion of stuffing
and fold it.
Flatten and roll out again by using rolling pin and spread little
flour as a dust if need.
Heat the tawa on medium fire and place paratha on tha tawa.
Cook little and turn it on other side, grease with ghee or
butter whatever you like.
Now turn again, grease ghee again on other side also.
Cook well till color become golden and look like little crispy.
Serve hot parantha with chutney and curd.
Dough with spinach puree
Stuffing
Paratha ready to serve
sumbit to this recipe with
Blogging Marathon page for the other Blogging Marathoners doing BM#12