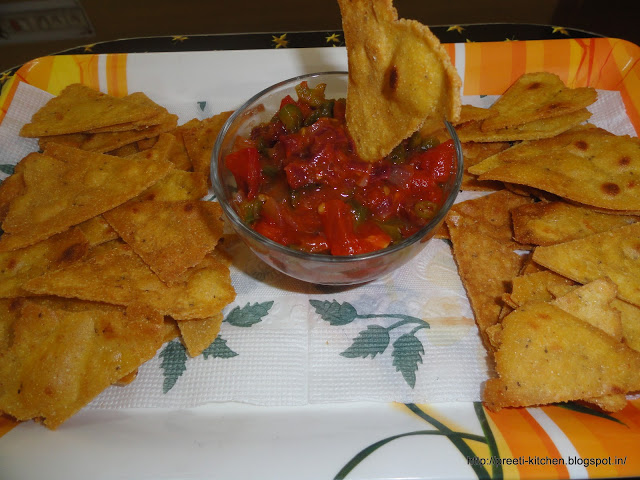 Last Updated on
Today I post "Tortillas Chips" under Chips Theme for Blogging Marathon #13 conducted by Srivalli. Tortillas are the bread of Mexico. Crispy tortilla chips
can be used to quickly assemble delicious Mexican snacks. Deep fry a large
batch of these chips and store them in an air-tight container. They keep well
for several days.
Here tortilla chips prepared with
mixture of cornmeal and plain flour then make simple dough with hot water. We
cook just like simple chapatti and cut into triangle shape and fry in oil and
serve with salsa or dip whatever you like. You can call corn chips also.
From the nutrition value point of view,
in cornmeal contain lots of carbohydrates and iron.
For tortilla chips
Ingredients
1 ¼ cup corn meal
¾ cup plain flour
½ tsp. salt
½ tsp. carom seeds
2 tsp. vegetable oil
Warm water for dough
Oil for deep frying
Method
For dough
Add cornmeal, flour,
salt, carom seeds and oil in bowl. Mix this
flour with figure tips. Add enough hot water in flour for dough and knead well.
Divide the dough in
to small portions. Roll out the each portion very thin like chapatti, prick all
over with a fork and cook lightly on tawa. Repeat same with the rest of the dough.
For frying
Cut into small
triangles and deep fry in oil until crisp. Remove from the flame on kitchen
towel.
Serve with salsa or
dip. You can store these chips in airtight container.
For tomato salsa
Ingredients
3 tomatoes
1 green capsicum
1 chopped onion
1 green chilli chopped
2 tsp. lemon juice
1 tsp. red chillies powder
Salt to taste
½ tsp. sugar
1 tbsp. olive oil
Method
Boil tomatoes in
water for 10-15 minutes. Remove the skin
and chop.
Roast the capsicum
on medium flame. Remove the burn skin
and chop.
Heat the olive oil in
the pan. Add onion and green chilli, sauté
for 2 min.
Now add capsicum and
tomatoes, add vinegar, spices and sugar. Mix well or sauté for 2 minutes.
Serve this salsa
with chips.
share this recipe with following events and series as under:
Blogging Marathon page for the other Blogging Marathoners doing BM#12