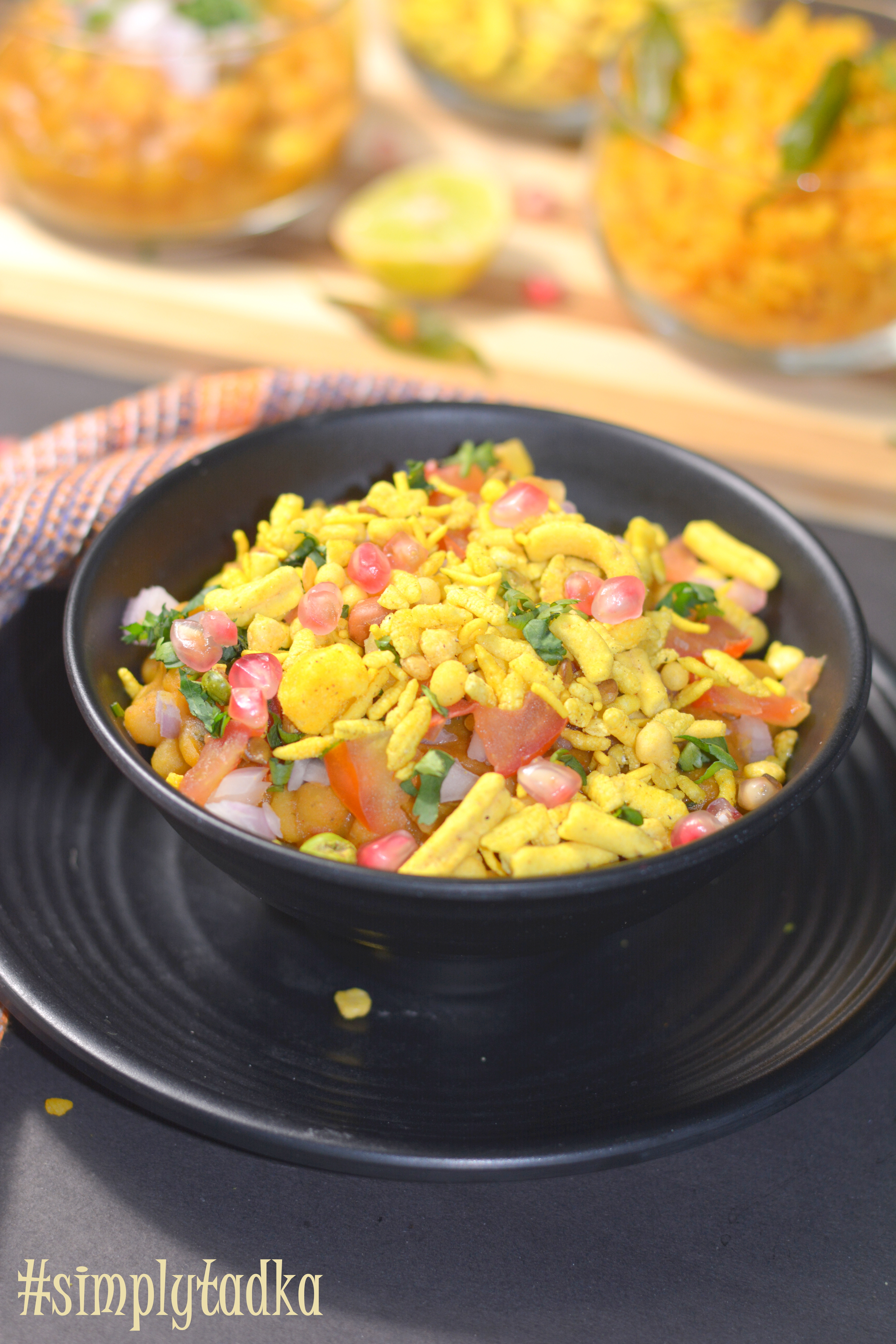 Usal is a Maharashtrian dish made of beans such as matki, sprouts or peas. Generally beans are soaked in water and allowed to sprout, but for this recipe I used white peas, soaked in water and boiled in pressure cooker with water and salt. After that cooked peas are stir fried along with spices, ginger chili paste in oil and addition of water in gravy. You can adjust the spices according to taste or gravy.
Flattened rice, commonly known as Chura, is rice which is flattened into flat, light, dry flakes. These flakes of rice swell when added to liquid, whether hot or cold, as they absorb water, milk or any other liquids. The thickness of the flakes varies between almost translucently thin (the more expensive varieties) to nearly four times thicker than a normal rice grain. It is also called beaten rice not to be confused with Poha, a North Indian dish prepared using flat rice. In particular, Indori Poha is famous in Indore and eaten with Jalebi)
In Maharashtra, pohe is cooked with lightly fried mustard seeds, turmeric, green chilli, finely chopped onions, and most importantly with fried peanuts and then moistened pohe is added to the spicy mix and steamed for a few minutes.
Poha is very comforting food which you can prepared in few minutes and good option for breakfast as healthy food. You can serve poha with tea or coffee as evening snack. Combination of Usal poha is a combination of two regions such as Pohe from M.P. and Usal from Maharashtra
I tried this recipe very first time, really like it because of crunchy texture of farsan, mild taste of poha and spicy taste of Usal, It's a complete meal itself.
What we needed to Prepare Usal Poha
For Usal
1 Cup White Peas, Boiled
2 Tbsps. Oil
1/2 Tsp. Cumin seeds
Red Chili Powder to taste
Salt to Taste
1/2 Tsp. Garam Masala
1 Tsp. Coriander Powder
1 Tsp. Ginger Chili Paste
1 Tsp. Lemon Juice
For Poha
1 Cup Poha
1 Small Sized Onion, Chopped
1 Green Chili, Chopped
1 Tbsp. Oil
1 Tsp. Mustard Seeds
Few Curry Leaves
Salt to Taste
2 Tsp. Sugar
2 Tsp. Lemon Juice
1/2 Tsp. Turmeric Powder
Green Coriander, chopped
For Garnishing
Farsan
Coriander Leaves
Onion and Tomatoes, Chopped
Lemon Juice
How to make usal poha at home
Wash and soak the poha for 5 minutes. Drain the excess water and keep aside. Heat the oil in pan, add mustard seeds, curry leaves, green chilies and onion and saute few seconds. Add poha, salt, sugar, turmeric powder, lemon juice and toss well. Garnish with fresh coriander.
Heat the oil in pan. Add cumin seeds when they starts splutter, add ginger chili paste. Add red chili powder, coriander powder, salt and garam masala. Add boiled peas and saute few minutes. Add water and cook on low flame for 5-10 minutes.
Place the poha in abowl and topped with usal gravy. Garnish with chopped onion, tomatoes, green chilies. Sprinkle mix farsan and lemon juice. Serve hot with tea or coffee.
Check out the Blogging Marathon page for the other Blogging Marathoners doing BM# 87
Loading InLinkz ...