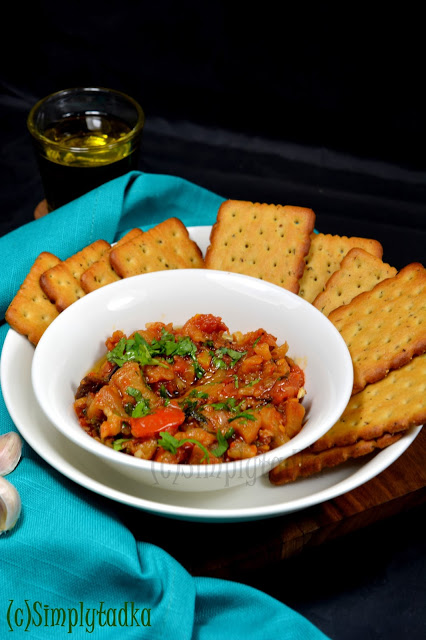 Last Updated on
Zaalouk is Moroccan recipe in which you have to chop eggplant or aubergine into small pieces and cook with tomato, garlic and salt as mushy texture. You can use this recipe as side dish or as spread or dip on toast or garlic bread. You can keep this salad in freeze for one week in airtight jar. I love texture and taste, its just like Indian chokha kind of dish. Even you can adjust the seasoning as per taste.
Zaalouk Moroccan | Moroccan Aubergine Salad
Preparation Time: 10 minutes
Cooking Time: 15-20 minutes
Servings: 4
Category: Side Dish
Cuisine: Moroccan
Cooking Method: Stir Fry
Ingredients
3 Medium Sized Aubergine, Peeled and Chopped
6 Medium Sized Tomatoes, Roughly Chopped
3 Garlic Cloves, Finely Chopped
Red Paprika to Taste
1/2 Tsp. Cumin Powder
1 Tbsp. Lemon Juice
2 Tbsp. Coriander Leaves, Finely Chopped
Salt to Taste
2 Tbsp. Olive Oil
Instructions
Peel and chop the aubergine or eggplants into small pieces and wash it properly.
Now heat the oil in non-stick pan. When oil is hot enough, add drained eggplant pieces and cook till to soft or cooked.
Now add chopped garlic, tomatoes, paprika and salt. Cover and cook till to soft or mushy.
Now remove the flame and add lemon juice and coriander and mix it gently.
Serve as side dish or as spread on toast.
Tags: how to cook zaalouk, eggplant salad, blogging marathon, simplytadka, salad, international recipe, eggplant recipe, tomato recipe, eggplant salad, aubergine recipe, side dish, salad, zaalouk salad, Moroccan zaalouk salad, Moroccan recipe, Moroccan salad, Moroccan cuisine.
Did you make this recipe?
If yes, do let us know how it turned out in the comments below.
Do share a picture with us simplytadka@gmail.com  or share on Instagram with hashtag #simplytadkarecipes and tag us @simplytadka
Check out the Blogging Marathon page for the other Blogging Marathoners doing this BM#78