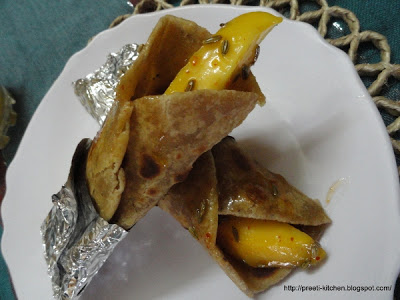 Last Updated on
Today I post something
different variation with mango that's called mango parantha roll. Under this
recipe with prepared dough with milk and mango puree only and ignore water
completely in dough procedure. Slices of ripe mango merge with some tangy sweet
taste for filling in the parantha and prepared roll for kids. I have prepared
this recipe for on-going blogging marathon # 15 event hosted by srivalli.
Ingredients
For wrapper
100 gm. wheat flour
15 gm. mango puree
25 gm. milk
1 tsp. butter
Salt to taste
1/4 tsp. carom seeds
(ajwain)
Butter for shallow frying
For filling
5-6 ripe mango slices
Red chillies to taste
1 tsp. sugar
A pinch of salt
1 tsp. lemon juice
1 tsp. butter
1/2 tsp. fennel seed
(saunf)
Directions
How to make wrapper's
dough
In bowl add flour, salt
and ajwain, mix well. Now add milk, melted butter and mango puree for soft
dough just like parantha or roti. Don't use water; keep in mind while making
dough. Now keep aside and cover it with clothe for 15-20 minutes.
How to make filling
Heat the butter in the
pan on medium flame. Add fennel, salt, and sugar, red chillies powder mix well.
Add mango slice and cook for 2 minutes. Add lemon juice and mix well. Keep
aside to cool.
How to make parantha
roll
Divide the dough into
equal partition near by 2 or 3 dough ball. Roll out the dough into thin round
shape chapatti by using rolling pin.
Heat the tawa on medium
flame, when it's hot enough place the wrapper onto tawa. When its semi cook one
side flip it and spread butter and do same with other side. Now remove the
parantha from the tawa and keep aside to cool.
How to present
Take one parantha and
place the two slices of mango filling in centre of parantha and roll it, for
tight roll you can use toothpick or silver foil. Now spread little filling on the top of roll.
Serve this mango parantha
roll with mango chutney or aamras.
Submit this recipe with following events:
Blogging Marathon page for the other Blogging Marathoners doing BM#15