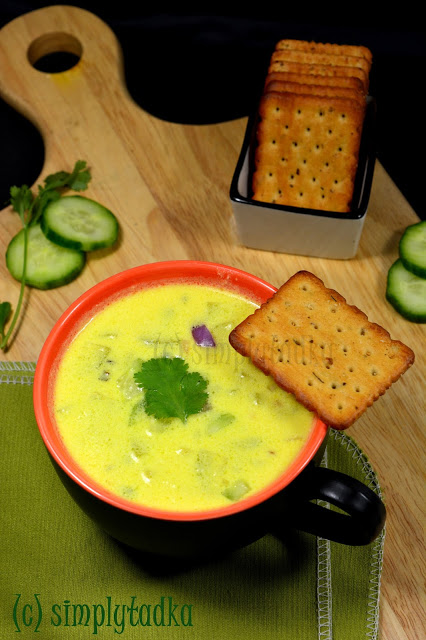 Last Updated on

Dahi Soup or Dahi shorba is Punjabi recipe which made by quick tadka of
cucumber and onion in curd. It is good for good for digestion and keeps warm in
winter season. This soup is little creamy whitish texture made by mixture of
fresh curd, gram flour or besan with seasoning.
Even you can add tomatoes and
other root vegetables like reddish or carrot if you like to make more healthy
and complete meal. You can serve this curd shorba as side dish with garlic
toast. Dahi shorba or curd shorba is very simple and interesting recipe.
Dahi Shorba| Curd Shorba
Preparation Time: 10 Minutes
Cooking Time: 10 Minutes
Servings: 4
Category: Soup
Cuisine: Punjabi
Cooking Method: Stirring

Ingredients
3 Cups Curd
2 Tbsps. Gram Flour/ Besan
1/2 Cup Cucumber, Finely Chopped
1/4 Cup Onion, Finely Chopped
1 Tsp. Ginger, Finely Chopped
1 Tsp. Green Chilies, Finely Chopped
1 Tsp. Cumin Seeds
1/4 Tsp. Turmeric Powder
Salt to Taste
1 Tsp. Sugar
1 Tbsp. Oil
Few Coriander Leaves, for Garnishing
Instructions
Whisk the curd, turmeric powder, salt, sugar and gram flour till
to smooth consistency.
Heat the oil in non-stick pan, add cumin seeds.
When they starts splutter, add ginger, chilies and onion. Saute
till to translucent on medium flame.
Now add curd mixture, cucumber, coriander and boil 3-5 minutes.
Serve hot with garlic bread or crackers.
Tags: dahi soup, dahi shorba,
curd shorba, curd soup, simplytadka, tadka recipe, instant soup, healthy
recipes, winter recipes, soup recipe, shorba recipe, curd, cucumber, blogging
marathon, food blogging, side dish, quick and simple recipe, Punjabi recipe.
Enter your email address:
Delivered by FeedBurner