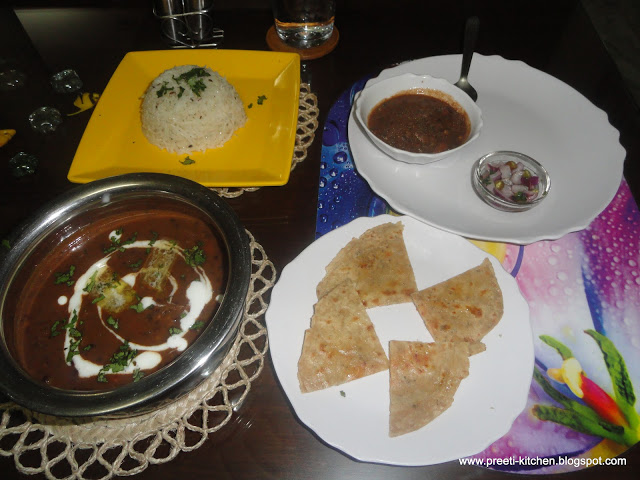 Last Updated on
Dal Makhni, is a very famous main
course from Punjab. It's available in every Punjabi Dhaba. Rajma and whole
Black lentil provides protein and calcium which are extremely important for
maintenance of your body cells and healthy bones. Cooking the dal in tomato
purée adds a little sharpness and thickness to this dish and cream, butter and
milk adds more richness and increase creamy texture. There are so many way to
cook "Dal Makhni" in different kitchen. But I post my way, how to I cook Dal in
my kitchen.
Ingredients
½ cup
whole black lentil (kali sabut urad dal)
1
tbsp. kidney beans (rajma)
½ cup
milk
½ cup
cream (prefer homemade cream)
½
cup chopped onion
½ cup
tomatoes with 1 green chilli and ½ tsp. ginger (chopped)
(Make puree of these three in mixer)
½ tsp.
cumin seeds (Jeera)
½ tsp.
red chilies powder
Salt
to taste
1
tsp. coriander powder
A pinch
of garam masala
½ tbsp.
clarifying butter (ghee)
For garnish
Cream
Fresh
green coriander (chopped)
Butter
Method
Clean, wash and soak the urad dal and rajma
overnight. Drain and keep aside.
Combine the dal, rajma and salt with 2 cups of
water and pressure cook till the dals are overcooked. Add the milk and 1 cup of
water and simmer for 10 minutes while stirring occasionally.
Heat the ghee in a deep and thick pan and add the
cumin seeds. When seeds crackle, add the onions and sauté till the onions turn
golden brown. Add tomatoes, green chili
and ginger paste and sauté till the puree cook well. Add the chilli powder, coriander
powder and garam masala and sauté for 5 minutes.
Add this to the boil dal and cream. Simmer for
15 minutes till the dal is thick and creamy. Serve hot, garnished with the
coriander, cream and butter.
submit this recipe with following recipes…