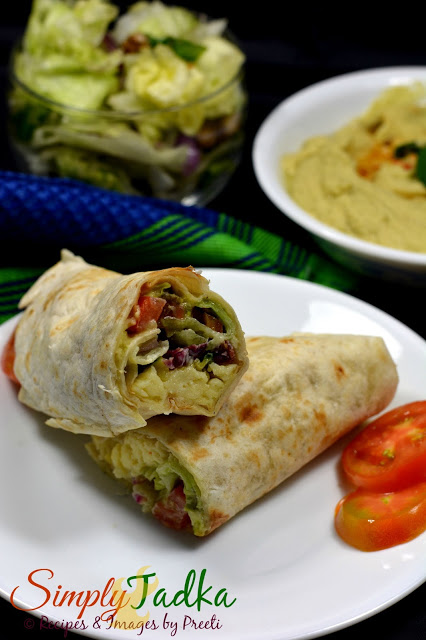 Last Updated on
Zucchini Hummus Wrap recipe is a very simple and quick homemade wraps,
good for lunch time or in tiffin also. Generally we used classic or traditional
hummus recipe which made with chickpeas, tahini, olive oil and garlic. But this
time i made
avacado hummus
for this recipe, where addition of avacado in
classic hummus recipe.
Hummus, a protein-packed bean spread, is as delicious as it is
healthy! 
This time i made healthy grilled zucchini hummus wraps under Lebanese
cuisine. For this recipe, you have to grill the zucchini slices and toss the
tortillas. Combine with hummus, tomatoes, onions and few more ingredients. They
dont take long time to make and really satisfactory meal.
Grilled
Zucchini Hummus Wraps
Preparation Time: 10 Minutes
Cooking Time: 10 Minutes
Servings: 3
Category: Wraps
Cuisine: Lebanese 
Cooking Method: Grill
Ingredients
2 Zucchini, Sliced
3 Tortillas
3 Slices Cheese
6-8Tomato slices
6-8 Onion slice
1/2 Cup Lettuce
Salt to Taste
Pepper to Taste
1 Tbsp. Olive Oil
Instructions
Cut the zucchini ends and slice them in lengthwise like strips. Grease
little olive oil and sprinkle little salt and pepper and keep aside. 
Heat the grill pan on medium flame and grease with little olive oil.
Place the tossed salted zucchini slices on grill pan and cook for 5 minute from
both side till to grill mark. Keep the grilled zucchini in separate plate.
Now grill the tortillas in pan till to grill mark from both sides for 1
minute. Now keep the grilled tortillas in separate plate.
Now time to assemble the wraps. Take one tortillas, spread
hummus
 evenly. Keep the slice or grated cheese, grilled zucchini slices, lettuce,
onion and tomato slices. Sprinkle little salt if you need. Wrap tightly and
enjoy. 
Notes: you can also use simple
hummus recipe in this wraps.
Tags: how to make grilled zucchini wraps, zucchini, wraps, grilled, hummus,
chickpeas, main dish, snacks, lunch, vegetarian, lunchbox, tiffin recipes,
picnic food, simplytadka, foodblogging, bloggingmarathon, avacado, Lebanese,
healthy, tortillas recipes.
Did you make this recipe?
If yes, do let us know how it turned out in the comments below.
#simplytadkarecipes and tag us @simplytadka 

 Check out the Blogging Marathon page for the other Blogging Marathoners doing this BM#78