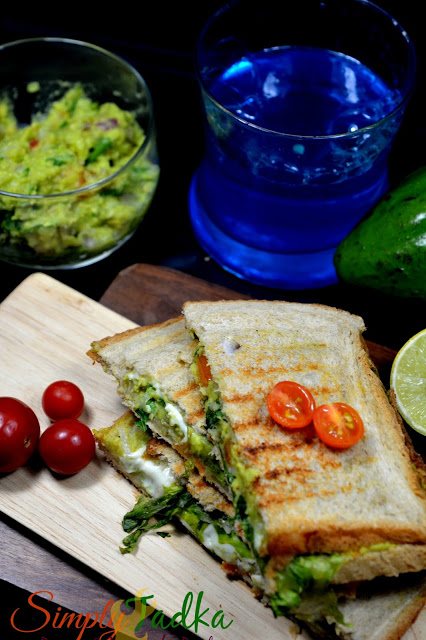 Last Updated on
The guacamole takes this grilled cheese sandwich to a whole new level of goodness. Even you can also imagine the taste of sandwich through pictures. Love the flavor of guacamole with melted cheese slices and grilled bread.
Sandwiches are interested and easy to make snack for breakfast and lunch meal. You can eat this sandwich without any dip or sauce.
Guacamole Cheese Sandwich
Preparation Time: 5 Minutes
Cooking Time: 10 Minutes
Servings: 2
Category: Sandwiches
Cuisine: Fusion
Cooking Method: Grill
Ingredients
4 White Bread Slices
1/2 Cup Guacamole
2 Cheese Slices
8 Tomato Slices
1/4 Cup Butter
Instructions:
Heat a grill pan on medium flame.
Spread the desired amount of guacamole on both slices of bread, then add cheese slices.
Place the tomato slices and sprinkle little salt and pepper.
Spread the butter outer bread slices and cook on grill pan or in toaster until to golden and crisp.
Serve warm with ketchup as you like.
Tags: how to guacamole sandwich, guacamole, sandwich, toast, bread, mexican, fusion, foodblogging, simplytadka, snacks, tiffin recipes, breakfast, guacamole cheese sandwich, guacamole cheese toast, grill, cheese, tomato.
Did you make this recipe?
If yes, do let us know how it turned out in the comments below.
Do share a picture with us simplytadka@gmail.com or share on instagram with hashtag #simplytadkarecipes and tag us @simplytadka
Check out the Blogging Marathon page for the other Blogging Marathoners doing this BM#78