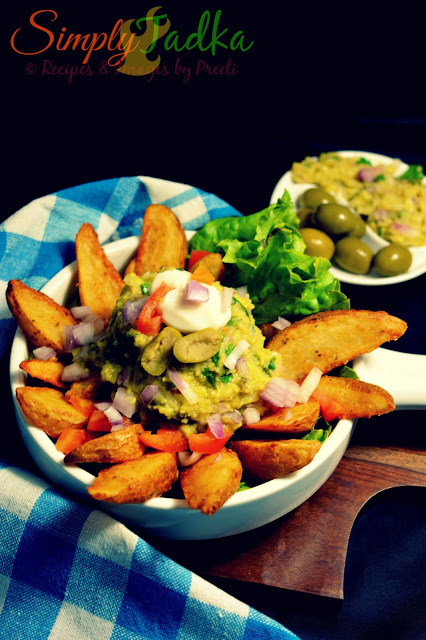 Last Updated on
These potato wedges full on loaded with ketchup, mayonnaise, and main ingredient guacamole and garnish with chopped onion, tomato and more. I love the whole platter and always try to serve hot wedges with guacamole. If guacamole is not available then you can use any other thick consistency based dip.
Guacamole is avocado based dip which includes raw onion, tomato, cucumber and lemon juice. This dish belongs to Mexico which generally serve with nachos and wraps.
Guacamole With Fries
Preparation Time: 10 Minutes
Cooking Time: 15 Minutes
Serving: 3
Category: Snacks
Cuisine: Fusion
Cooking Method: Fry
Ingredients
1 Packet Potato Wedges
1/2 Cup Guacamole
Mayonnaise
For Garnishing
Tomato, Finely Chopped
Onion, Finely Chopped
Olives
Lemon Juice
Instructions:
Fry the potato wedges as per instruction on packet. Even you can use homemade potato wedges or French fries.
Place the wedges in bowl and topped with guacamole and mayonnaise.
Garnish with chopped tomato and onions and sprinkle lemon juice over the wedges.
Serve immediately.
Tags: how to make potato wedges guacamole, guacamole fries, guacamole loaded fries, potato wedges, guacamole, fusion, potato, avocado, food blogging, simplytadka, snacks, mayonnaise, instant food, avocado, spread, dip, side dish.
Did you make this recipe?
If yes, do let us know how it turned out in the comments below.
Do share a picture with us simplytadka@gmail.com  or share on Instagram with hashtag #simplytadkarecipes and tag us @simplytadka
Check out the Blogging Marathon page for the other Blogging Marathoners doing this BM#78