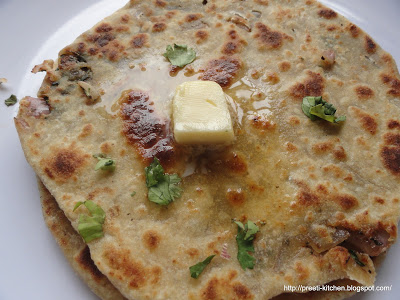 Last Updated on
Today I post "Onion Paratha recipe"…one of mine friend requested for this recipe. Hope so, she likes
it… under this first, we have to prepare dough and then onion stuffing with some spices
and herbs.
Onions,
and other Allium species, are highly valued herbs possessing culinary and
medicinal value. Some of their beneficial properties are seen after long-term
usage. Onion may be a useful herb for the prevention of cardiovascular disease,
especially since they diminish the risk of blood clots. Onion also protects
against stomach and other cancers, as well as protecting against certain
infections. Onion can improve lung function, especially in asthmatics. The more
pungent varieties of onion appear to possess the greatest concentration of
health-promoting phytochemicals.
There
are many different varieties of onion, red, yellow, white, and green, each with
their own unique flavor, from very strong to mildly sweet. Onions can be eaten
raw, cooked, fried, dried or roasted. They are commonly used to flavor dips,
salads, soups, spreads, stir-fry and other dishes.
3 tbsp. wheat flour
1 tbsp. plain flour
or maida
A pinch of salt
1tsp. Clarified butter or Desi ghee
Enough water for
dough
2 small onions (fine
chopped)
1 tbsp. fresh
coriander (fine chopped)
2 tsp. crushed
kasuri methi
Salt to taste
½ tsp. red chilli powder
or chilli flakes
Chat masala to taste
¼ tsp. carom seeds
or ajwain
Direction:-
Strain the both
flour together and add salt and ghee in the same bowl. Combine all
ingredients together with fingertips. Now add enough water for binding soft
dough for chapati or paratha.
Peel and chop the
onions and add coriander leaves, kasuri methi and spices together. Mix well.
Divide the dough
into equal 4 portions. Now roll the one portion with the help of rolling pin. Add
a small portion or near by 2 ½ tsp. stuffing in it (depend on dough portion). Now
again close the edges of dough and make round ball. Flat the ball and dust it
with flour. Now roll it with the help of rolling pin.
Heat the non-stick
pan, when it's hot enough place the paratha on the tawa. Turn the cook paratha
other side and spread the ghee on the paratha. Do it same with other side also.
When golden spot shown place the paratha on plate and serve with masala curd
and pickle.
Submit this paratha recipe with following events as under: