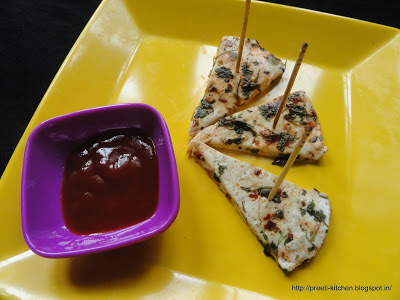 Last Updated on
Every time we just enjoying recipes as a virtual treat at the time
of BM but this time we have chance to tried and taste this delicacies from the
our co-blogger. On the 3rd and final day of group 2, I picked very
interesting and delicious recipe for BM#19. Today I picked "PANEER PAANDAAN" under
calcium rich food.
Under this recipe, I had added some more spices and herbs for
unique aroma…. And serve this as a starter with tomato ketchup. Thanks Vaishali for
lovely recipes which you shared with us.
150 Gm. Paneer
1 tsp. Green Chilli Sauce
1 tsp. Red Chilli Sauce
1 tbsp. MDH Kasoori Methi/ Dried Fenugreek Leaves
½ tsp. MDH Kashmiri Red Chilli Powder
1 tbsp. Olive Oil
Salt to Taste
Chat Masala to Taste
½ tsp. Chilli Flakes
½ tsp. Oregano
Banana Leaf
Oil for Greasing
Tomato Ketchup for Serving
Directions:
In a bowl, combine all ingredients except
paneer and banana leaf for the marination.
Now cut the paneer into triangle shape ½ inch thick
in size, now mix the paneer into marination for 30 minutes and cover it for the
flavours to infuse in paneer.
Cut the banana leaf into small squares to wrap
the paneer.
Place the paneer in centre of banana lead and
fold it around the paneer triangle just like pan.
You can use tooth pick to seal the leaf.
Heat the non-stick tawa or pan, grease it with
little oil and place the paneer pan on the tawa. Cook it for 10 minutes at
least on medium flame until color become change.
Remove the paneer from the leaf and place into
serving plate with tomato ketchup.
Serve hot and delicious Paneer Paandaan as an
evening snack in mansoon season or as a party snacks…
Step By Step Pictures:
Submit this recipe Paneer Paandaan with following events:
Blogging Marathon page for the other Blogging Marathoners doing BM#19
http://pumpkinfarmfood.blogspot.in/2012/07/kids-delight-warm-foods-to-beat-rain.html