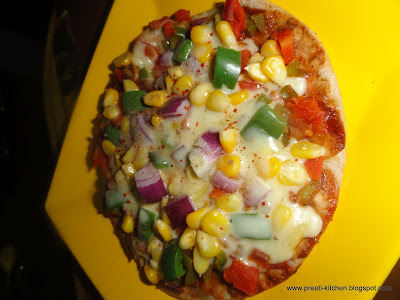 Last Updated on
Today I post Tawa Pizza or homemade wheat flour
pizza. It's a very simple pizza which can be made quickly at home. I have made
the pizza dough at home in this recipe with wheat flour without using of
refined flour (maida) and yeast which is very good source of fibres, manganese
and selenium. You can say, here we use whole wheat flour roti for base. For the
topping, use mix veggies like onion, tomatoes, capsicum, corn, or whatever your
child or family members like. I have made this pizza on non-stick pan, its good
option for those who have not oven at home.
for the Pizza Dough
2 cup wheat flour
Salt to taste
Water for dough

For the Topping
Pizza topping sauce
1tbsp. fine chopped carrot
1tbsp. capsicum ,
cut into small pieces
1tbsp. tomatoes cut
into dice
1 tbsp. onion cut
into dice
½ tbsp. sweet corn
1/2 cup thickly grated processed or mozrella cheese
Butter for cooking
Salt to taste
chaat masala
chilli flakes
oregano
Method
For the Pizza Dough
Combine wheat flour and salt
together, now add water in a flour to make dough like a chapatti/Indian flat
bread. Take a big portion of dough and roll it as little thick by rolling pin. Keep the heat tawa on high flame.
When see just white patches, turn it, see the below pictures. Cook
second side little bit more (fully cook).
How to prepare topping for
Pizza
Heat a non-stick kadhai, add butter
and cook all veggies mixture on a medium flame for 4-6 minutes with salt. Keep
aside to cool.
How to cook
Pizza on Tawa
Apply ½ tsp. of pizza sauce on the
pizza base (cook well side use for topping) and spread it evenly. If pizza
sauce not available, spread tomato ketchup on the base.
Sprinkle the cook vegetables on top
and spread them gently. Sprinkle the grated cheese evenly. Heat the butter on a
non-stick tawa and gently place the pizza on it, such that the bottom of the
pizza faces tawa.
Cover the pizza with a deep vessel or
deep plate and cook on a medium flame till the base becomes crisp and the
cheese melts. Serve hot with chilli flakes, chaat masala and oregano.
Picture Gallery
top side after cook Chapatti
lower side
add sauce and topping
garnish with big pieces of cheese, onion and capsicum
place on non-stick pan/ tawa
cover with deep plate or vessel
pizza ready
lower side of base crisp and well cook
sprinkle oregano, chaat masala and chiliesflake..
submit to