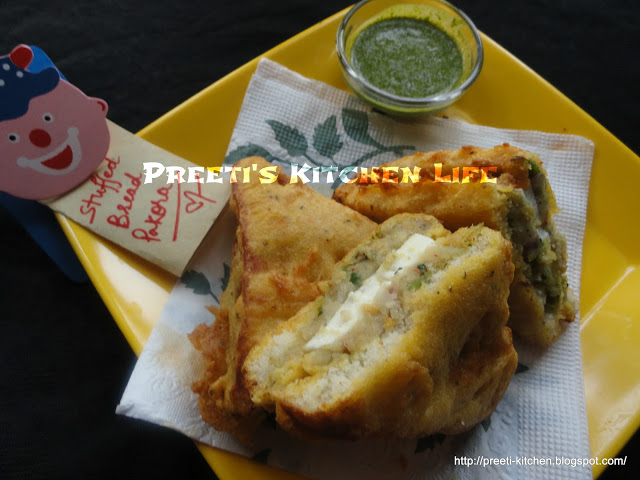 Last Updated on
Today I post Stuffed
Bread Pakora or you can call Sandwich Pakora, under this recipe we cover the
paneer slice with potatoes stuffing from the both side and now cover this
sandwich with bread slices, then toss with gram flour batter and frying in the
oil. Hope so, all my food lovers like this recipe so much. You can serve this
recipe as an evening snack or breakfast in rainy days with green chutney or
meethi chutney.
Pictorial:
Ingredients
For Potato Stuffing
3 boiled and mashed
medium sized potatoes
1 medium sized chopped
onion
2 chopped green
chillies
1 tbsp. chopped fresh
green coriander
Salt to taste
1/2 tsp. red chilli
powder
1 tsp. coriander
powder
1/4 tsp. garam masala
1/2 tsp. amchoor
1/2 tsp. chaat masala
For Gram Flour Batter
2 cup gram flour
1 tsp. carom seeds
1/2 tsp. salt
1 tsp. red chilli
powder
1/4 tsp. meetha soda
or baking soda
Other Ingredients
Cottage cheese
(paneer)
Green coriander dip
5 bread slice
Oil for deep frying
Direction
For Potato Stuffing
Combine all the ingredients
together in one bowl and mix well.
For Gram Flour Batter
Combine all the
ingredients together and add enough water for batter not so much in thick
consistency.
How to Arrange
First take a bread
slice and cut it into diagonal side or triangle side into 2 pieces.
Now spread green
chutney on both bread slices and spread a layer of potatoes mixture on both
bread slices.
Now place the paneer
slice (according to bread slice size) in the centre of one slice and cover it
with another slice.
Heat the enough
vegetable oil for deep frying into the wok on high flame.
Now dip the bread
sandwich into gram flour batter and place into the wok for deep frying on
medium flame, when become golden in color and cook well. Place the bread pakora into the plate.
Divide the bread
pakora into halves and sprinkle little chaat masala and serve hot with green
coriander dip or Mint dip.
Submit this Bread Pakora recipe with following events:
Blogging Marathon page for the other Blogging Marathoners doing BM#18
30 Min Cooking Mela

Street Food event hosted by Chef al Dente