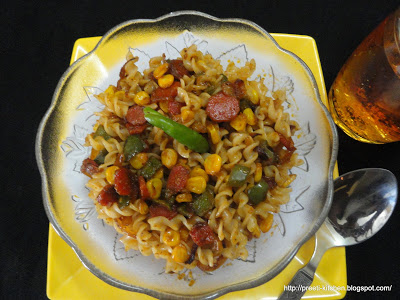 Last Updated on
Today
I post twisted pasta with Punjabi flavour in blogging marathon event under
Italian food in Indian style… for that recipe; I have to use proper Punjabi
spicy tadka in Pasta….


Ingredients
For Pasta's
 1 cup twisted pasta
 Few drops Olive oil
A pinch
of Salt
For Tadka
 1 tbsp. Sweet corn (washed and boiled)
1 tbsp.
Carrot (peeled and round chopped)
1 tbsp.
Onion (long strips)
1 tbsp.
Green capsicum (chopped in dice form)
2 tsp.
Green chilli sauce
1 tbsp.
Pasta topping
Salt to
taste
1/2
tsp. Cumin seeds
1/2
tsp. Coriander powder
1/4
tsp. Garam masala
1/4
tsp. Red chilli powder
2 Green
chillies for garnishing
1 tbsp.
Clarifying butter for shallow frying
Directions
Boil the
pasta with salt, olive oil and water for 15 minutes on medium flame and then
drain the excess water from the pasta. Now wash the pasta with cold water and
toss with little veg oil or olive oil.
Now heat
the pan on medium flame, add clarifying butter or ghee. Add cumin seeds when
they start crackle add onion and sauté for 2 minutes. Add capsicum and carrots
and sauté for 5-10 minutes when it's become soft add spices (red chillies powder,
coriander powder and salt) and sauces (pasta topping and green chilli sauce. Now
sauté for 5-10 minutes again and add garam masala and corns.
Add cooked
pasta into this tadka. Serve this twisted pasta with Punjabi spicy tadka and garnish
with green chilli.
Submit
this pasta recipe with following events:
Blogging Marathon page for the other Blogging Marathoners doing BM#15